WILD THYME CHICKEN LASAGNA SALAD
Serves  4| Prep time 30mins | Cooking time 30mins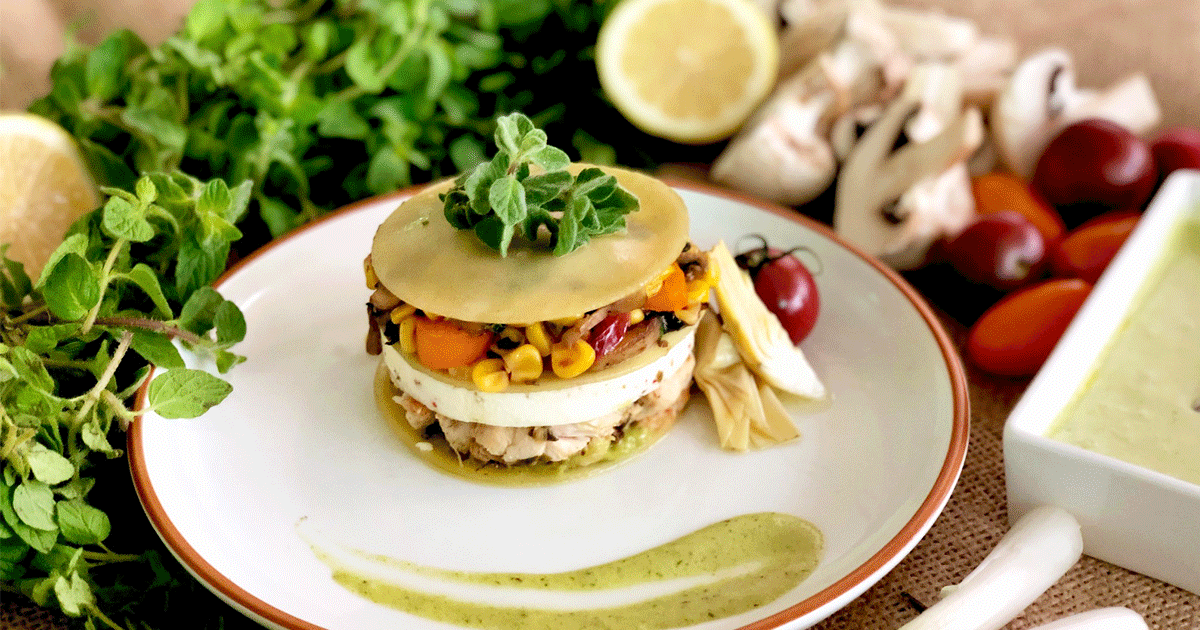 500g grilled chicken breast
6 sheets lasagna
1 cup corn kernels
1 cup fresh white mushroom diced
1cup cherry tomatoes
1 bunch wild thyme zoubaa
10 leaves fresh basil
5 gloves garlic
½ cup olive oil
¼ cup vegetable oil
2 lemons (juice and lemon zest)
Salt, white pepper upon  taste
1 bunch spring onion
1 cup Lebanese Ricotta (or any cheese of your choice)
5 tbsp roasted almonds
Blend together vegetable oil, zest of 1 lemon, juice of 1 lemon, salt, pepper, 1/2 the wild thyme, 5 basil leaves, 3 garlic cloves, and marinate chicken overnight.
Boil the lasagna sheets in salted water, keep aside.
Sautéed diced mushrooms and corn kernels in olive oil, then remove and sprinkle with cut wild thyme and fresh basil. Add diced cherry tomatoes and spring onion.
Dressing
Blend 2 garlic cloves, 1/2 bunch wild thyme, remaining basil leaves, roasted almonds, juice of 1 lemon, zest of 1 lemon, salt, white pepper & at the end add gradually olive oil to have an emulsion.
Montage
Use a circle mold. Put first some of the dressing, one lasagna sheet, grilled chicken, mushroom mix, cheese and another lasagna sheet and repeat the steps.