OSSO BUCO LASAGNA & VEGGIES RATATOUILLE
Serves 4 | Prep/ Cooking Time 60mins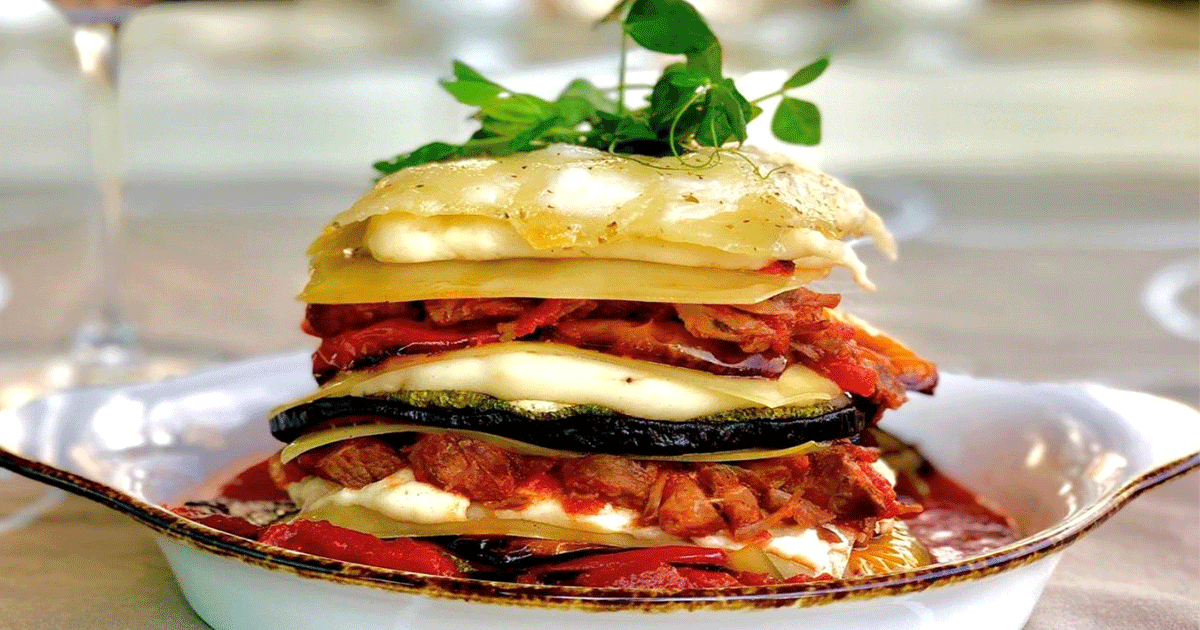 600g Osso Bucco
2 cups red wine
2 sprigs rosemary fresh
1 tbsp tomatoe paste
2 cups chicken stock
Bouquet garni (celeri, leeks, onion, carots, garlic, laurel leaves, cloves  …..)
VEGGIES RATATOUILLE
1 pcs eggplant
5 pieces zucchini
2 pieces red bell pepper
2 pieces yellow bell pepper
Olive oil, salt, black pepper upon taste
TOMATO SAUCE
4 tbsp olive oil
6 tbsp onion diced
4 tbsp garlic diced
1 tbsp dried oregano
1 tbsp dried basil
1 can chopped tomatoes
1 tbsp ketchup
Salt, black pepper, fresh basil to taste
BECHAMEL SAUCE
2 tbsp all purpose flour
2 tbsp butter
1.5 cups milk heated
Salt, white pepper, nutmeg to taste
1 cup mozzarella cheese
6 tbsp Gremolata (chopped parsley, salt, garlic & lemon zest)
1.2 pack lasagna sheets boiled in salted water
Osso Bucco                                                                                        
Take the Osso Bucco out of the fridge and let it sit at room temperature for 30 minutes to an hour. This simple step helps it to cook more evenly. Season it with salt and pepper and sear it until brown.
Place it in a Dutch oven pan, add red wine, rosemary, tomato paste, chicken stock & bouquet garni & braise for 2 hours (or in pressure pan for 45 min).
Remove, drain, shred and mix it with garlic parsley Gremolata then set aside.
Veggies ratatouille
Cut the ingredients thin slices, season with olive oil, salt & pepper then grill in preheated oven until soft, set aside.
Tomato sauce
In a pan, put olive oil, add onion & garlic, when translucent, add the other ingredients except fresh basil and let reduce, when it's thick, turn off heat, add fresh basil, set aside.
Béchamel
Put butter in a pan, when it's melted add flour and mix to have a kind of dough, brown it, then add heated milk, when mix is thick, season with salt pepper & nutmeg , keep aside too.
Montage
For the montage, put some tomato sauce in bottom, boiled lasagna sheet, then sliced veggies, béchamel, another sheet, meat mix, cheese, béchamel, and repeat the steps.
Top with remaining cheese and bake 15 min in preheated oven (180°C).