شاورما على الفحم
SHAWARMA ON CHARCOIL
SHAWARMA AU CHARBON
المطعم بوبوف
BY BOUBOUFFE
PAR BOUBOUFFE
لـ ٦ اشخاص – التحضير ٤٥ دق
Serves 6 | Prep/cooking 45 mins
Pour 6 personnes | Preparation 45 mins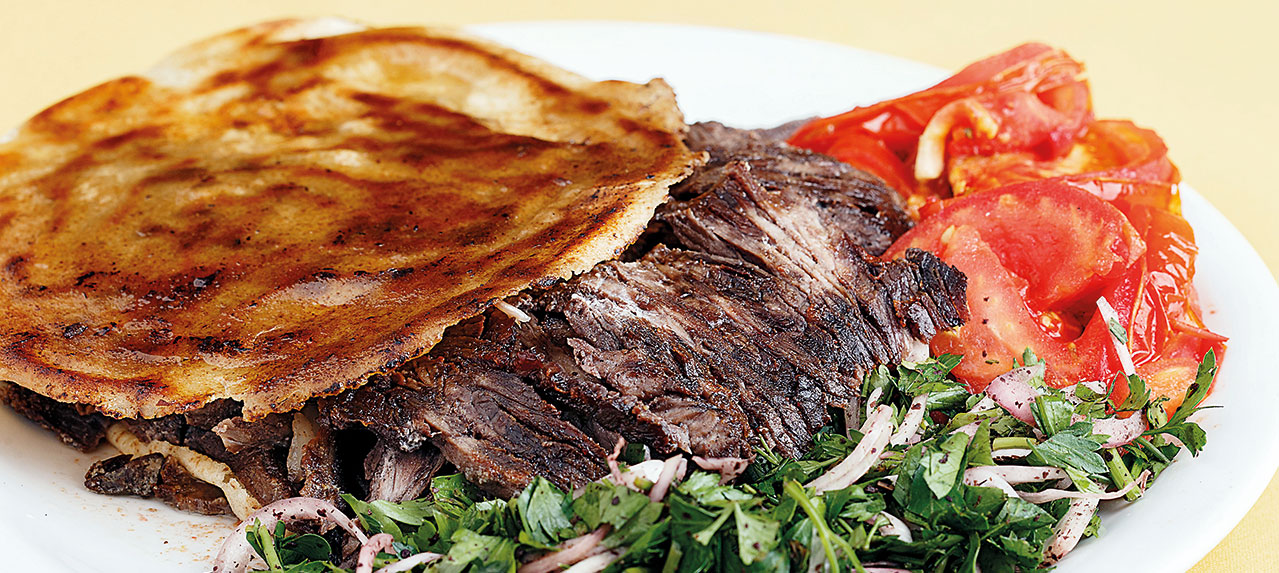 ١ كغ من اللحم البقري المقطّع
شحم غنم طازج
الخل والبصل والحامض والملح والفلفل
٧ بهارات
1 kg beef top side cut
Fresh mutton fat (sheep)
Vinegar, onions, lemons, salt and pepper
7 spices
1 kg de bœuf coupé
Graisse de mouton fraîche
Vinaigre, oignons, citrons, sel et poivre
7 épices
١. نقع اللحم لمدة ٢٤ ساعة في الخل والبهارات
٢. أخرج اللحم. شكّه في السيخ، ووضع كل١٠ سم قطعة من الشحم
٣. عند الانتهاء، يتم وضعها على الفحم
٤. يُقدّم مع الطماطم المحمصة، ومزيج البقدونس مع البصل والسماق والحمص وخبز البيتا
1. Marinate the meat for 24 hours in vinegar and spice mix.
2. Remove the meat and prick on skewer by putting each 10cm mutton fat piece.
3. Once completed, it is placed before the charcoal.
4. Serve cooked with roasted tomatoes, parsley mixture with onions, sumac and hummus and pita bread.
1. Faites mariner la viande pendant 24 heures dans un mélange de vinaigre et d'épices.
2. Retirez la viande et piquez la en brochette, en mettant chaque 10 cm un morceau de graisse de mouton.
3. Une fois terminé, il est placé sur le charbon.
4. Servir cuit avec des tomates grillées, du persil avec des oignons, du sumac, de l'houmous et du pain pita.