SEA BASS IN CRUSTACEAN JUS
Serves 4 | Prep/cook time 40 mins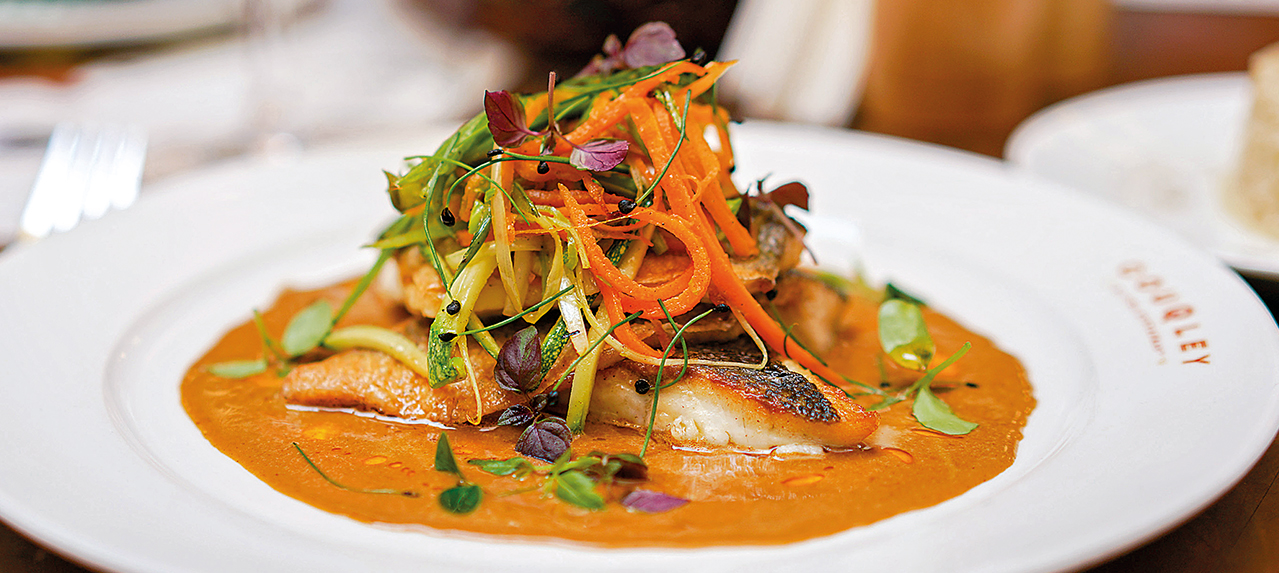 • 170g sea bass
• 15g snow peas
• 15g carrots
• 15g leeks
• 15g zucchini
• 4g butter
• Salt and pepper to taste
Crustacean sauce 
• 1kg shells (crab, scampi, lobster, shrimp)
• 240g garniture aromatique (carrot, celery, fennel, shallot, garlic)
• 5g tomato paste
• 1 bouquet garnis
• 200ml white wine
• 2L fish stock
• 400ml cream
1. In a sauté pan, season and lightly pan-sear the sea bass on both sides. Using a different pan, lightly sauté the vegetables in a bit of butter until soft but still crisp. Season with salt and pepper.
2. Using a hand mixer, emulsify your bouillon with a knob of butter once heated. Pour around the fish and vegetables.
3. For the crustacean sauce, sauté all fish, shrimp, crab or lobster shells in a little butter till golden brown. Add the tomato paste and the mirepoix (carrots, celery, onions), season with pepper but not salt. Deglaze with arak and reduce.
4. Add fish stock and bouquet garni. Reduce by half. Filter using a fine sieve. Add a small amount of cream and reduce to proper consistency. Correct any seasoning and serve.