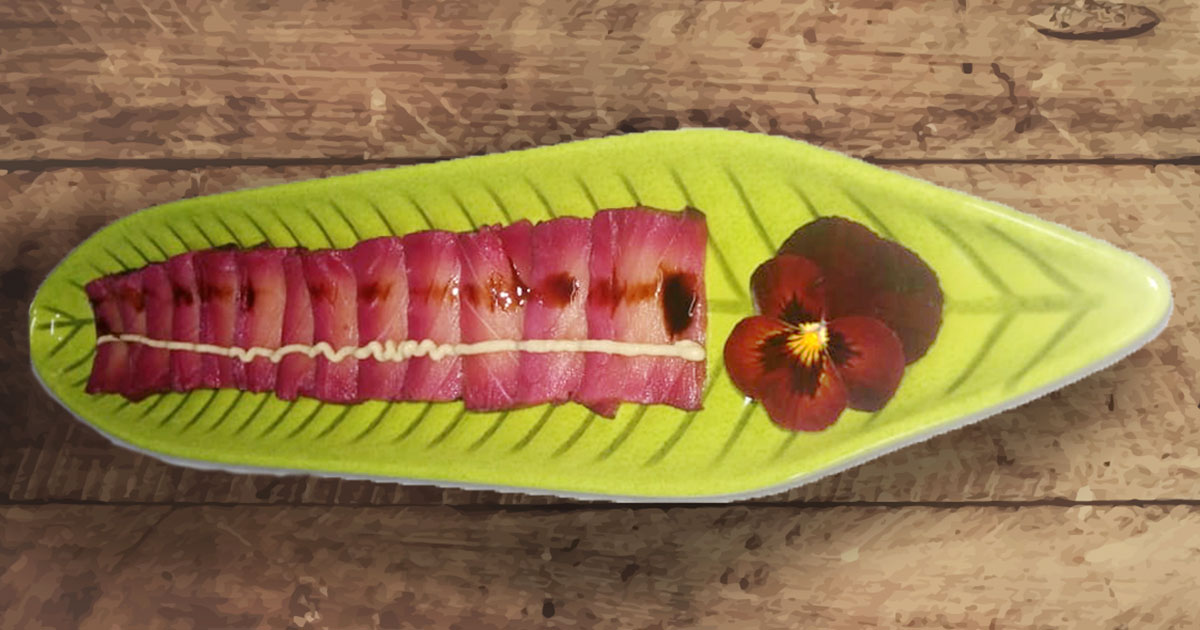 • 1pc Salmon Whole raw with skin
• 3pc Lemon zest
• 3pcs Orange zest
• 100g Sugar
• 100g Rock Salt
• 150g Beetroot half cooked and blended
• 50ml Vodka
• 50ml Rum
• 30g Wasabi (aside)
• 10g Tuna dip
• 5ml Soy Sauce
• 1 Edible Flower
Tuna Dip
• 4g Anchovies in oil
• 4g Capers
• 100g Tuna can
• 7g Dijon Mustard
• 20ml Lemon juice
• 1g Salt
• 1g Black pepper
1. Mix the grated zest, vodka, beetroot juice and rum with the salt and sugar in a dish. The more snugly it all fits in the dish with the salmon, the better.
2. Thoroughly mix all of these ingredients then bury the salmon in this sandy mixture.
3. Cover the dish in plastic and store in the refrigerator for 48 hours to cure.
4. After about two days, remove the salmon from cure, rinse with water and pat dry.
5. Blend all the ingredients for Tuna dip in the blender till smooth.
6. Slice salmon thinly, drizzle of Tuna dip and Soy sauce on top.