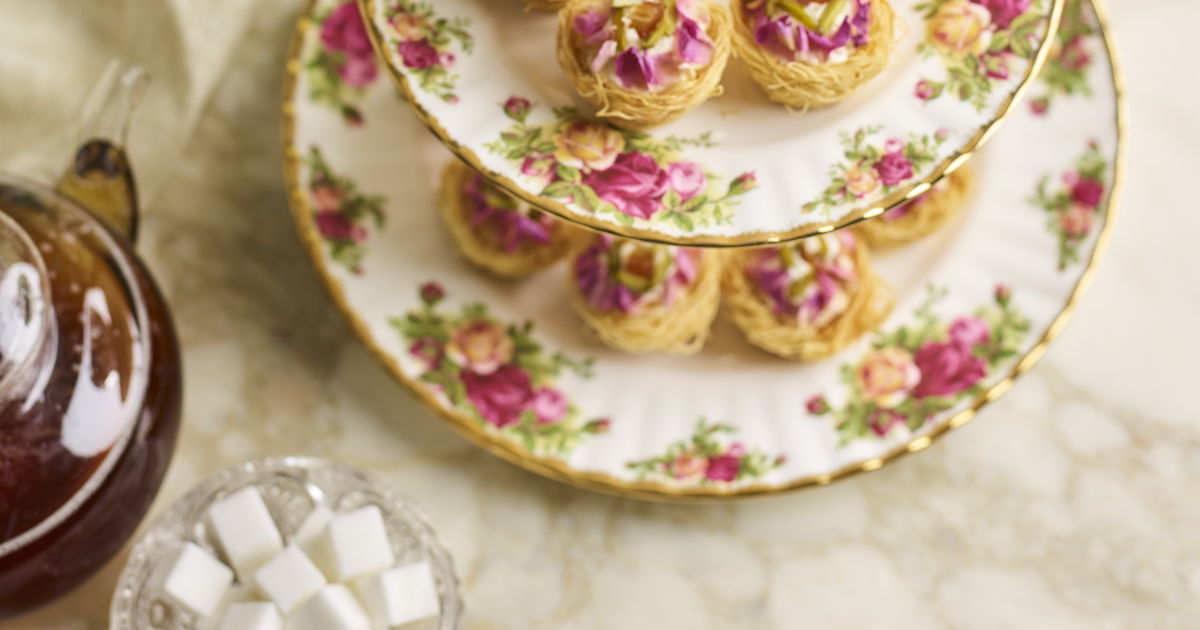 Osmalieh Nest & Garnish
120g osmalieh dough
½ cup ghee
½ tsp ground cardamom
½ tsp cinnamon powder
¼ cup pistachios
¼ cup rose petal
¼ cup chopped medjool dates
White Chocolate Mascarpone Cream
100 g milk
1 vanilla pod
50 g honey
225 g white chocolate
200 g mascarpone cheese
For the nest
Preheat oven to 175 ͦC and brush a mini muffin pan with ghee.
Cut an 8" long strand of osmalieh dough and wrap it tightly along your finger to form a nest. Put them in the pan.
Drizzle with more ghee; season with cardamom & cinnamon then bake 10 to 15 min or until golden brown.
Remove the tray from the oven and let it cool down.
For the cream
In a small bowl, put the chocolate with vanilla & honey.
In a small pot, simmer milk then add it to the chocolate bowl and mix very well. Cover and store it in the fridge overnight.
Remove the chocolate mixture from the fridge; on a low speed, start mixing it and add the mascarpone cheese gradually until you get a creamy texture.
Using a piping bag, fill the nest with the prepared cream and garnish it with pistachios, rose petal & dates. Serve it with simple sugar syrup.
Chef's Tip
You can use butter instead of ghee or even a mixture from both.
Very Important to leave the chocolate ganache in the fridge for overnight before using it.
RECIPES BY CHEF SERGE GHAZARIAN