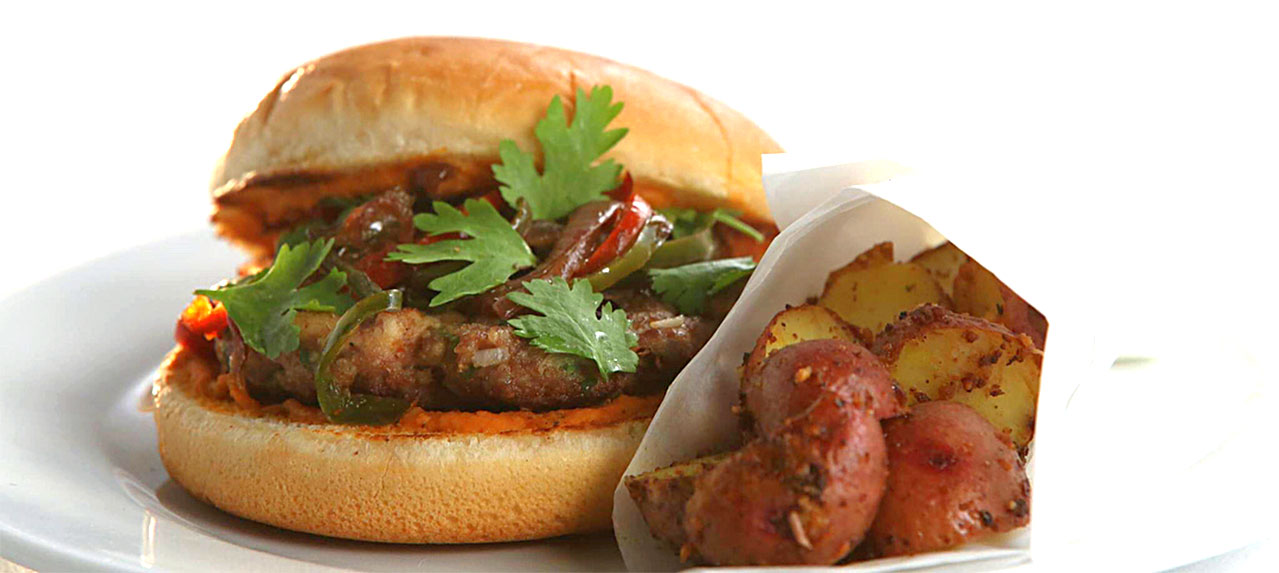 Camel Patty
600 g Camel belly
6 g Garlic
30 g Onions
36pcs Parsley Pinch
Blueberry Cinnamon powder to taste
Salt and black Pepper to taste
Tomato and Black Fava beans Sauce
250 g Tomato puree
150 g Cooked Black Fava Beans
12 g Garlic
60 g Onions
30 g Olive Oil
5 g Sugar
Salt and pepper to taste
5 stems French thyme
2 g Cumin seeds
1 g 7spices
Sautéed Vegetables
2 medium Red Onion (wings)
1 of each Colored Bell Peppers (strips)
6pcs Fresh White Mushroom (Slices)
54pcs Coriander Leaves for the Top
1g Cardamom Powder
Salt and Black Pepper to taste
1g 7spices
180g Tomato and Black Fava Beans Sauce
50g Olive Oil
1. Give a quick chop to the vegetables and mix with spices and camel belly, mince 2 times using meat mincer machine, divide to 150g balls each and give a burger shape then insert the blueberry 6pcs in each camel patty.
2. Chop the vegetables cook them using the olive oil, season to taste add the black fava and cook for 3 mins then add the tomato puree. Simmer for 10 mins then using a hand mixer give a creamy texture to the sauce.
3. Cook the vegetables using olive oil keep them al dente, season them and in the end mix with the tomato fava sauce to have sticky vegetables.
4. Grill the camel patty to perfection and the buns as well ,cover the two sides with sauce put your cooked patty topped with sautéed vegetables and decorate with coriander leaves.
5. Serve aside oven baked mini potatoes or potato chips.