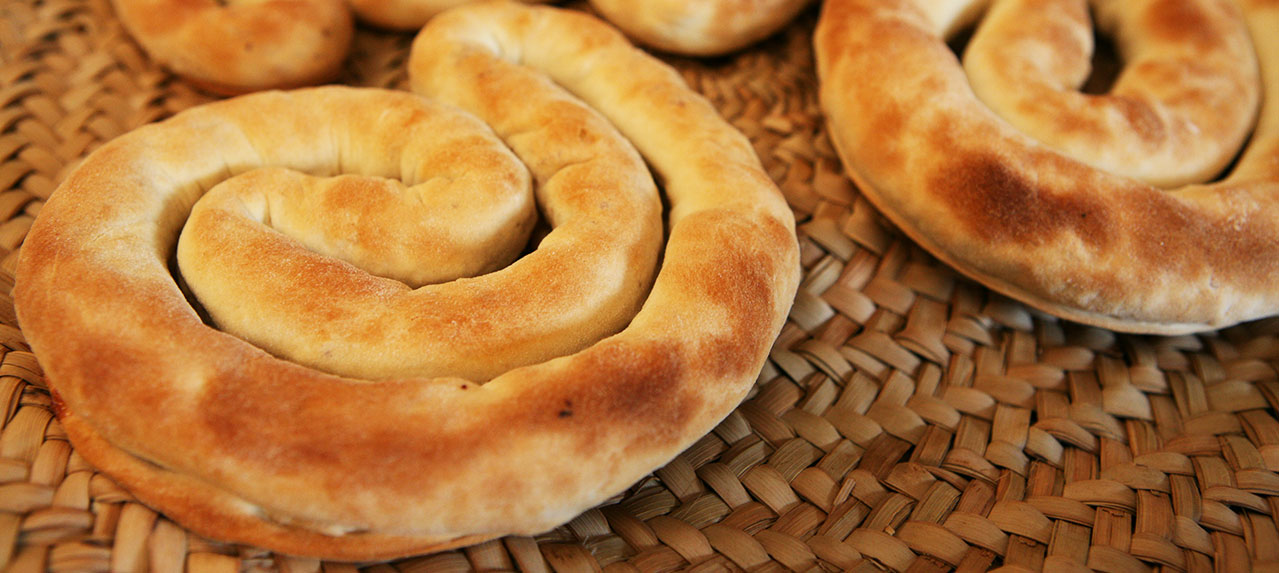 For the dough
2½ cups strong white flour
1 cup cake flour
1 tsp yeast
1½ cups lukewarm water
1 tsp of salt
1 tbsp vegetable oil
For the filling
3 tbsp crushed walnuts
3 tbsp crushed almonds
3 tbsp sugar
½ tsp rosewater
½ tsp orange blossom water
Finishing
1 tbsp butter or vegetable oil
1. To make the dough: Measure the flour. Then sift the flour and salt together in a bowl. Stir in the sugar.
2. Dissolve the yeast into the water, set aside for a couple of minutes. Pour the yeast water and oil gradually into the flour. Knead the mixture to make soft dough. Knead for 10-15 minutes until smooth and elastic. Alternatively use a food processor and run the machine for 1 minute.
3. Place the dough in a large bowl. Cover with a damp kitchen towel and leave to rise in a warm draft free place for 1½ to 2 hours or until double in bulk.
4. Punch down the dough. On a floured surface, form a rope-like shape.
5. Pinch off the dough to form 4 equal sized balls.
6. Flour a bowl and leave balls to rise for an additional ½ hour.
7. Roll out the prepared dough into a flat thin disc.
8. Spread the filling evenly on dough. Roll dough starting from the center outward to roll into a pencil-like or thin rope-like shape.
9. Brush softened butter or vegetable onto the shaped pastry.
10. Bake in oven for about 10 minutes.