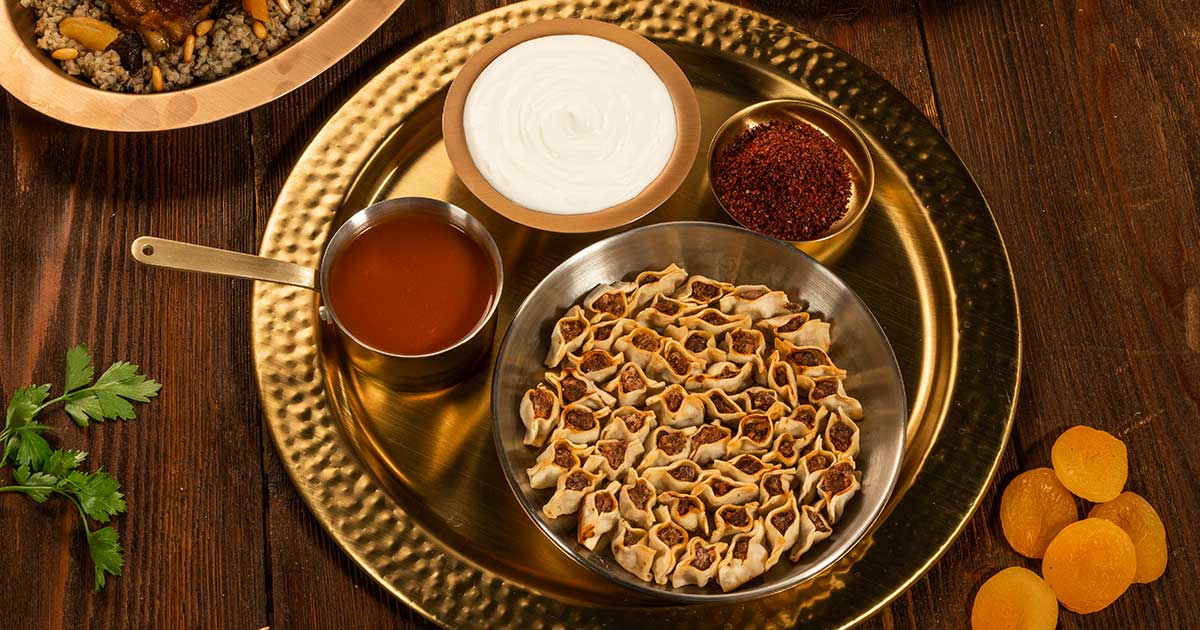 2 cups flour
⅔ cup water
1 tsp salt
330g minced beef (twice-minced and half-fat)
2 onions, chopped
½ tsp salt
⅓ tsp seven spices
⅓ tsp red pepper powder
¼ tsp black pepper
1 tbsp butter
2 cups meat stock (or 1 stock cube solved in 500ml of water)
½ tbsp tomato paste
½ tbsp hot red pepper paste
Salt
3 cloves of garlic, crushed
1 cup strained yoghurt
½ cup of water
Sumac powder to garnish
1. Blend the flour with the water and salt and knead into a smooth mixture.
2. Let the dough rest for 1 hour.
3. Combine the ingredients for the stuffing and knead together.
4. Roll the dough into a thin flat surface (1 to 2 mm thick). Cut into squares of about 5 cm by 3 cm.
5. Place half a teaspoon of stuffing onto each piece of dough and fold the rectangle in half, pressing the corners together. Then squeeze the edges together and inward to form a little boat.
6. Arrange the dumplings on a baking dish that you have covered with a thin layer of sunflower oil. Place in the oven (preheated on 180°C) until they become golden.
7. To prepare the sauce, melt the butter on low heat and mix it with the pepper paste and the tomato paste. Add 2 cups of meat stock and salt to taste.
8. When the mixture boils, remove it from the heat and keep warm.
9. Mix the yogurt with the crushed garlic and dilute with some water to obtain a fluid mixture.
10. Just before serving, pour the sauce over the dumplings, cover with a thick layer of yogurt and sprinkle with sumac.
11. Alternatively, put the mante on individual plates and serve the sauce and the yogurt on the side so that each person can add sauce and yogurt according to his or her taste.