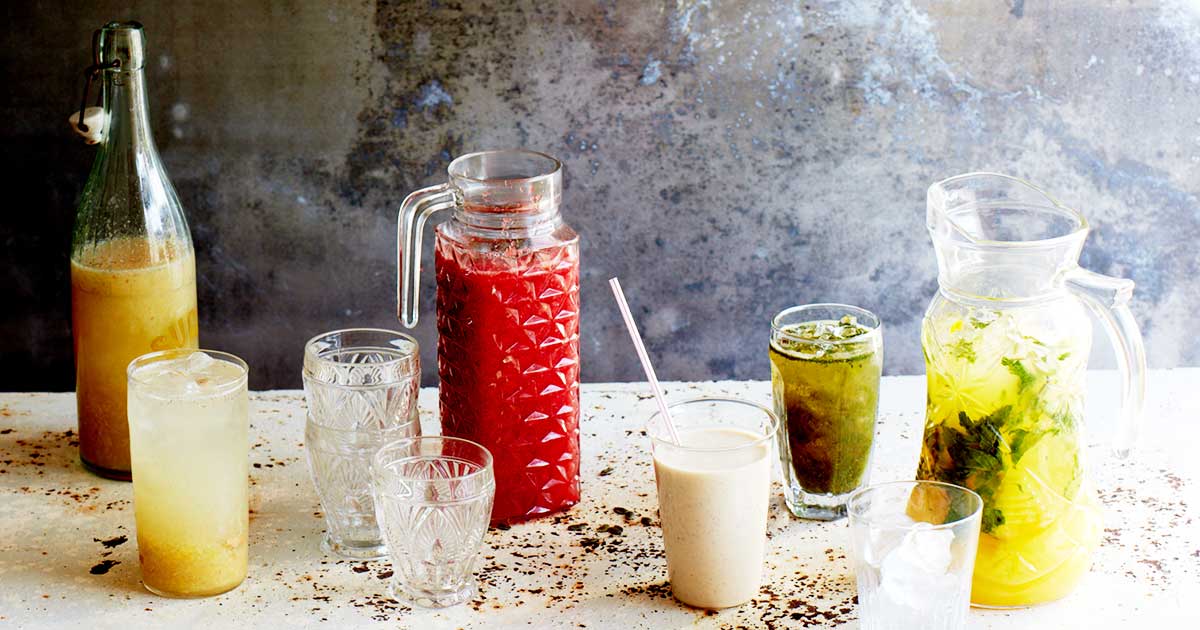 DATE, ALMOND, ORANGE BLOSSOM AND LABNEH SMOOTHIE
100g Roasted blanched almonds, roughly chopped
24 Deglet Noor or 15 medjool dates
250g Labneh
500ml Milk
3-4 tbsp Orange blossom water
Runny Honey, to taste
1. Put the nuts into a food processor and blitz to make a fine powder. Don't overwork or they'll turn oily.
2. Next, add the dates and blend them well with the nuts. They need to be blitzed to a purée well otherwise they will fall to the bottom of the glass when you serve this.
3. Add the labneh and blend again, then finally add the add the milk slowly with the motor still running and continue to blend until the mixture is smooth.
4. Blend in the orange blossom next, and sweeten with honey to taste.
5. Divide among six glasses and serve.
POMEGRANATE AND ORANGE BLOSSOM LEMONADE
8 Pomegranates
2-3 Lemons
4-6 tsp Caster sugar or add kore to taste
2 tsp Orange blossom water
1. Cut each pomegranate in half.
2. Tap the hard side of the skin firmly with a wooden spoon, which should release the seeds.
3. Remove any that remain in the shell and discard any white pith that stuck to the seeds.
4. Set a generous handful of seeds to one side, then put the reminder into a food processor with the sugar, lemon juice and orange blossom water and blitz together.
5. Strain through a sieve then pour into a jug.
6. Add a few spoonful of crush ice.
7. Top with pomegranate seeds and serve.