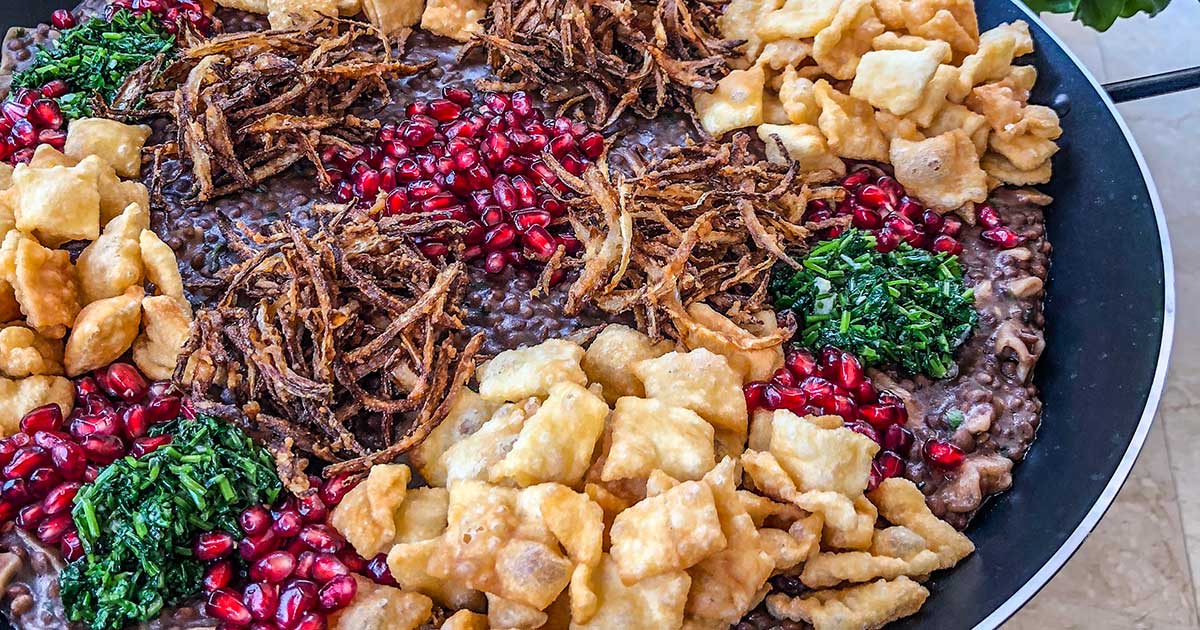 Harak Osba'o is a family favorite especially when my mother is over as she does it best. It's a Damascene style lentil sweet and sour stew topped with fried dough, onion and garlic cilantro. Legend says that when they first created this stew, the person couldn't wait to try it, so had it very hot and "harak osba'o" which translates to "burnt his finger". And to be honest, I don't find that so hard to believe. The stew is absolutely delicious. Done with either homemade dough or pasta for convenience, it is totally irresistible!
2 cups of brown lentils
1 cup olive oil
1 cup vegetable oil to fry the dough and onions
7 glasses of water
2 large onions, sliced, sprinkled with a bit of flour directly before frying
1 bunch of coriander chopped (around 1-2 cups)
8-10 garlic cloves, cruched
1/4 cup lemon juice
1/2 cup tamarind juice
1 pinch cumin
Salt to taste
Pomegranate (optional)
2 cups flour
1 cup water
1/4 teaspoon salt
1. Mix the salt and flour, add in the water gradually until you get a dough that is not sticky.
2. Kneed for 10 minutes.
3. Place in an oiled deep dish and let to rest for 30 mins.
4. Roll the dough into a thin circle then cut into small squares of 1.5 cm sides. Sprinkle with more flour. Set aside until slightly dry.
5. Right before using, remove the excess flour in a strainer.
6. Place the lentils in a pot and pour the water; bring to a simmer and cook uncovered for about 30 minutes or until cooked, making sure they are not over cooked.
7. Add the salt, half of the dough, then mix slowly. Add the lemon juice, tamarind juice, them mix slowly and keep on low heat.
8. Meanwhile, fry the garlic in the olive oil. Add the cilantro. Add half the mixture to the lentils, while setting the other half aside for garnish.
9. Fry the dough in the vegetable oil until golden, remove and set aside for garnish.
10. In the same oil, fry the onions. Add half the mixture to the lentils, while setting the other half aside for garnish.
11. Remove the lentils off the heat. Pour in a large serving pot, or individual servings.
12. Garnish with the cilantro mixture, fried dough and onions, and pomegranates. Enjoy warm or in room temperature.
Notes: if using pasta, use the small butterfly pasta shape and break it in half. Then add, uncooked, to the lentil half way as it's cooking.