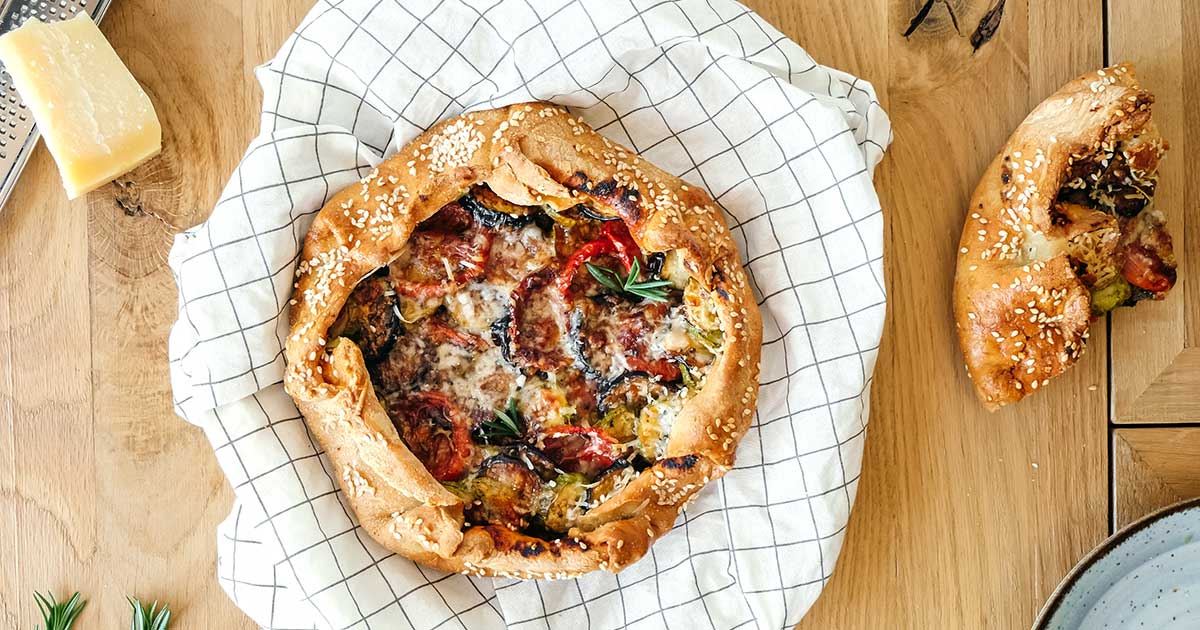 ¾ cup warm milk
½ tsp sugar
1 ½ tsp dry yeast
250g all-purpose flour
2 tbsp semolina, plus a couples of pinches
½ tsp salt
1 egg, beaten
1 tbsp sesame seeds
2 tbsp tomato paste
3 small zucchinis, thinly sliced
3 small eggplants, thinly sliced
3 small tomatoes, thinly sliced
Salt & pepper to taste
2 tsp finely chopped rosemary or herbs de Provence
½ cup extra virgin olive oil
1 cup finely grated parmesan cheese
1. Heat milk in a sauce pan on low heat (do not let it boil). Remove it from heat then stir in sugar and yeast. Leave it for 5 minutes or until foam starts forming on the surface of the liquid. This means that the yeast is active and ready to do its job.
2. Meanwhile whisk flour, salt and 2 tbsp semolina in a large bowl. Stir in the activated yeast along with the milk and mix well with a wooden spoon.
3. Transfer the dough to a floured clean surface and start stretching and kneading. If it's too wet, now is the time to add more flour, and if it's too dry add more milk. 10 minutes of kneading should produce a nice soft dough. Put it in a large bowl, cover it with cling film and let it rest for at least 1 hour in a warm place.
4. After 1 hour, the dough should double in size. Divide it into 2 balls.
5. Roll the first ball on a parchment paper into a thin irregular circle. Gently transfer the paper to a sheet pan.
6. Spread 1 tbsp tomato paste on the dough and start arranging zucchini, eggplant, and tomato slices making them slightly overlap each other, leaving a 5 cm border from the edge of the galette crust.
7. Generously season with salt, pepper, and 1 tsp of finely chopped rosemary. Drizzle with ¼ cup extra virgin olive oil and finish with ½ cup grated parmesan.
8. Gently fold dough over the filling. Sloppy is fine! Brush the curst generously with beaten egg and sprinkle with sesame seeds. Make the other galette by following the same steps.
9. Bake in a preheated 400°C oven for 35 to 40 minutes. Make sure to turn the top flame on during the last 10 minutes to make the crust nice and golden.
10. Let it rest for 10 minutes before serving. Cut with serrated knife and serve immediately.