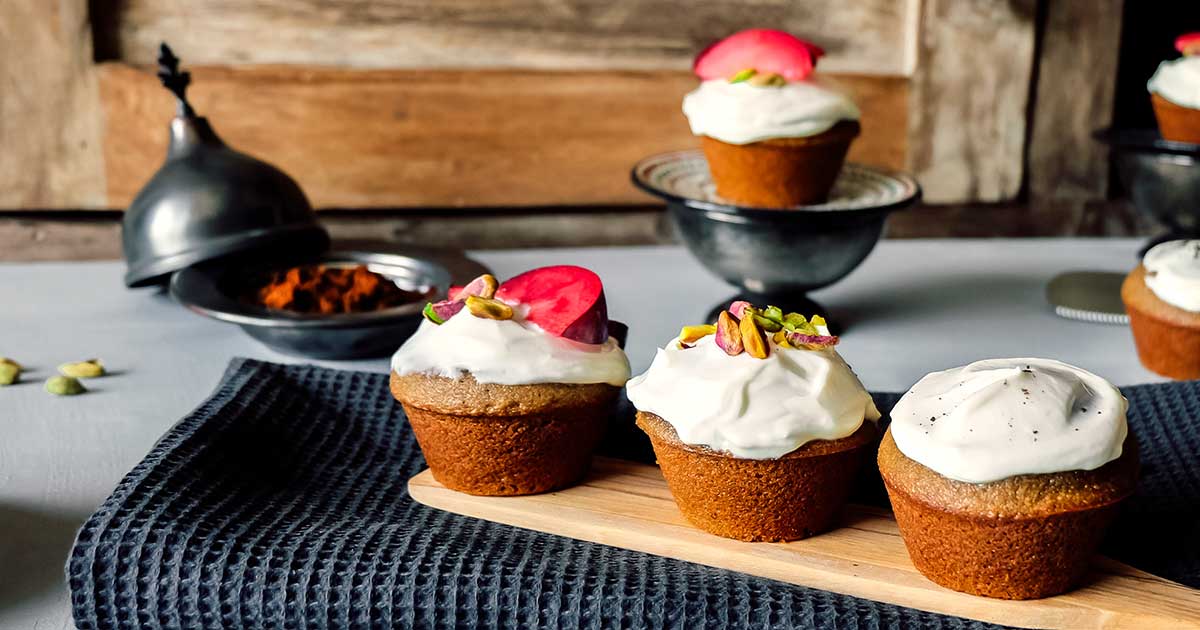 1 ½ tbsp ground Brazilian coffee
4 cardamom pods
1 cup water
¾ cup cane or granulated sugar
½ cup or 113g room temperature butter
2 tsp vanilla extract
3 eggs
1 ½ cups all-purpose flour
2 tsp baking powder
¼ tsp salt
1 cup cow labneh
Honey to taste, around 2 tbsp
2 prunes, or your favorite seasonal fruit
1 tbsp toasted pistachios
1. Pour the water into a cezve and place it on medium heat. When it's about to boil, stir in the ground coffee until well combined. Pound the cardamom pods to open them up and add them to the cezve. As the coffee boils, a dark foam will start forming and will look like it's about to spill. Remove from heat for few seconds until the liquid's level returns to normal. Return to heat and repeat process until the coffee boils without spilling. Simmer on low heat for a couple of minutes then turn heat off. Strain it using a fine mesh strainer and let it come to room temperature.
2. Using a whisk, mix together softened butter and sugar until well combined and the mixture is no longer grainy. Whisk in eggs, one at a time, then stir in vanilla. Set aside.
3. In a separate bowl, sift together flour, baking powder, and salt. Add 1/3 of the sifted dry ingredients and 1/3 of the cooled coffee to the wet ingredients. Mix well and continue altering adding in the flour and the coffee until everything is mixed well.
4. Fill cupcake liners or cupcake tin until ⅔ full. Place them in a preheated 175°C oven and bake them for around 20 minutes or until a toothpick inserted into the cupcake center comes out clean. Keep an eye on them because you want them to be moist. Let them cool completely for 30 minutes.
5. For the frosting, simply whip labneh with honey and taste. Make it as sweet as you desire.
6. Remove cupcakes from tin if using, and start frosting them with a palette knife. Finish with toasted pistachios and a couple of prune wedges.