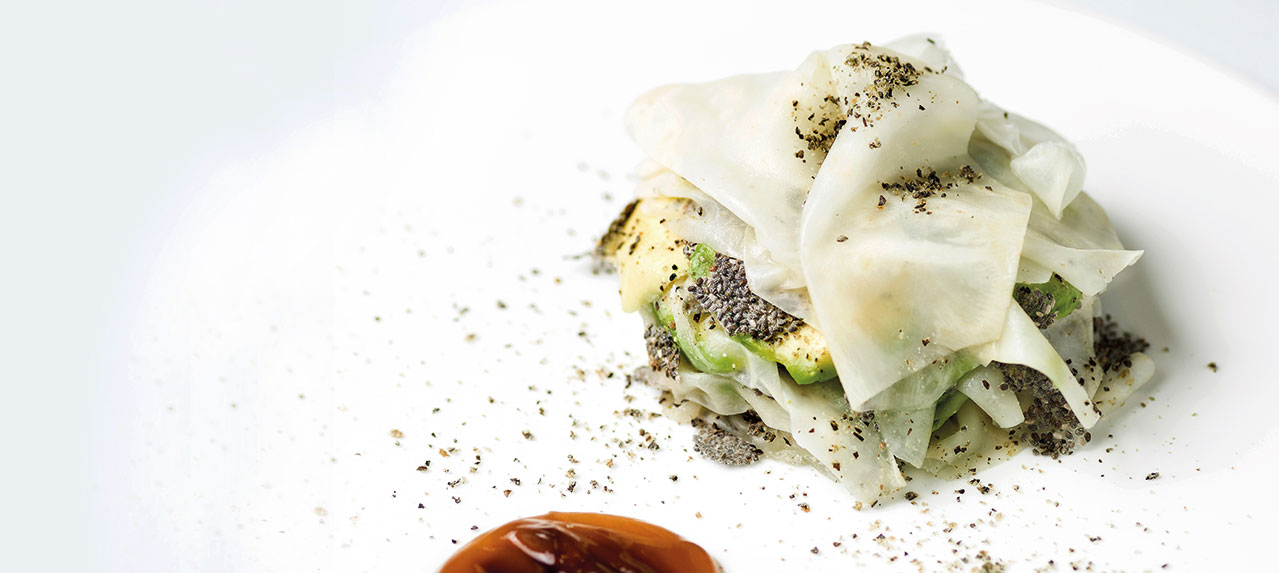 Carrot fermentation
500g carrots
800g water
2g salt
200g carrot extraction
Celeriac
400g celeriac
200g celery extraction
Turnip jelly
800g turnip extraction
400g ponzu
13g agar-agar
Chia tiles
Finish and assembly
400g avocado
5g hemp powder
20ml coconut oil
10ml olive oil
Sekigahara soya sauce
Salt, freshly ground pepper
Carrot fermentation
Chop the carrots into large pieces and place in a jar, then add the water, salt and carrot extraction. Leave to ferment for 1 month at a temperature of between 14°C and 16°C.
Celeriac
1. Peel the celeriac then, using a slicer, cut into slices 1 mm thick.
2. Dab each slice with carrot fermentation and celery extraction before putting the celeriac back together.
3. Leave to ferment for 48 hours in a vacuum.
4. Steam cook at 85°C for 45 minutes.
5. Leave to cool.
Turnip jelly
1. Make an extraction from the turnips.
2. Heat with the ponzu to 90°C before adding the agar-agar.
3. Cook for around 2 to 3 minutes.
4. Cool then place in the Thermomix. Put through a strainer and vacuum pack.
Chia tiles
1. Plunge the chia seeds into a saucepan of lukewarm water and leave to swell for 30 minutes.
2. Spread onto sulfurized paper in a layer about 2 to 3mm thick.
3. Transfer to the dehydrator for 12 hours to obtain a crispy texture.
Finish and assembly
1. Assemble the mille-feuilles, starting with the celery leaves, then the avocado trimmed unevenly.
2. Between each ingredient, sprinkle hemp powder, salt, pepper and some crumbled chia tile.
3. Once the mille-feuilles is assembled, cut in 4 and arrange on a plate. Add a touch of turnip jelly and a dash of soya sauce.
4. Finish with a sprinkling of hemp powder.