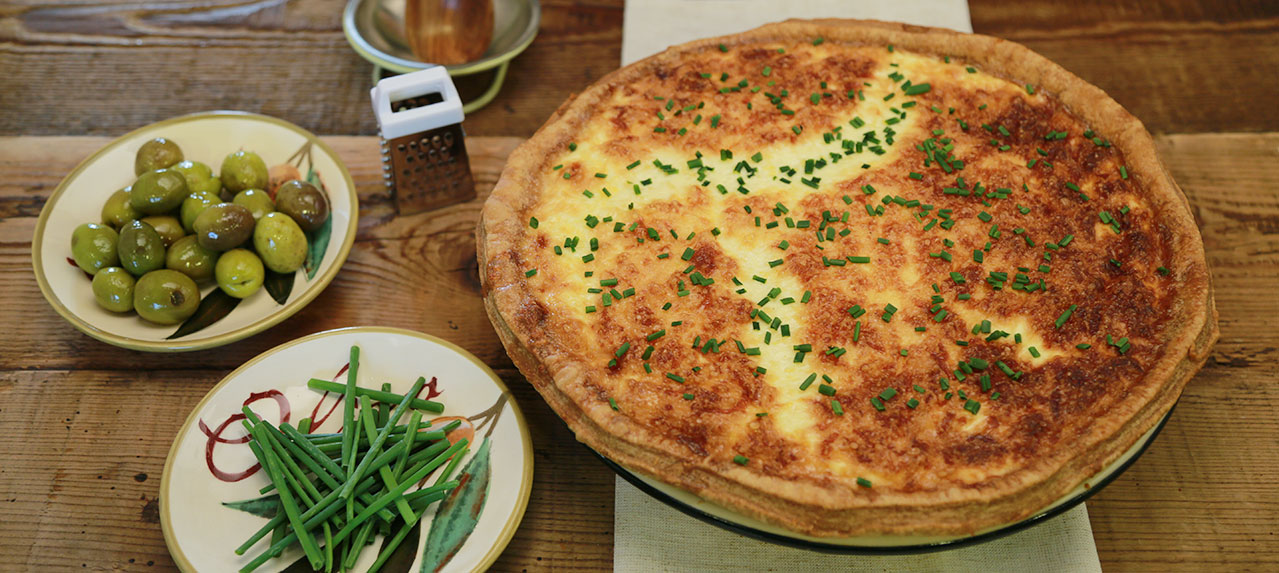 250g all-purpose flour
125g unsalted butter
1 tsp salt
4 tbsp water
2 tomatoes
1 eggplant
1 orange bell pepper
2 zucchinis
1 onion
5 garlic cloves
3 fresh thyme sprigs
2 fresh rosemary sprigs
4 tbsp extra virgin olive oil
Black pepper
1 tbsp honey
3 tbsp olive oil
½ tbsp balsamic vinegar
½ tbsp pomegranate molasses
For shortcrust pastry
1. In the bowl of a food processor fitted with the blade attachment, put the flour, butter, salt and water. Pulse until crumbly. Do not over mix the dough.
2. With your hands, assemble the dough into a ball, cover in plastic wrap and let it rest in the fridge for 2 hours.
3. Roll out the dough between two parchment papers or on a floured surface.
4. Line one big tart pan or multiple small individual tartlet pans with the dough, arrange the edges and let rest for 30 minutes in the fridge (if not using the same day, you can freeze the dough at this point, cover tightly with plastic wrap, label – the name of the recipe and date – and keep in the freezer until ready to use).
5. Preheat the oven to 400°F (200°C). Blind bake the pie crust: line the dough with parchment paper, fill with baking beans or dried pulses, and bake about 15 minutes until the crust is dry.
6. Remove from the oven, lift out the weights and the liner, then put the crust back in the oven for another 10 to 15 minutes until cooked through and lightly golden.
7. Transfer to a wire rack and let cool completely.
For the roasted vegetables
1. Wash and cut all the ingredients in medium size pieces, around 4cm chunks. Don't cut them too small, or they will become mushy once roasted and coated with the dressing.
2. Put the vegetables in a large bowl, drizzle with olive oil, season with salt and pepper and swirl until well coated.
3. Line a large baking sheet with aluminum foil and spread the vegetables evenly.
4. Add the fresh herbs and roast in a hot oven for 45 minutes to an hour, mixing the vegetables twice.
For the dressing
Mix all the dressing ingredients in a large bowl and set aside.
Assemble the pie
1. Once the vegetables are roasted, add them to the dressing bowl, mix gently to evenly coat.
2. Set aside and let cool. You can also prepare the vegetables a day ahead and keep them in the fridge overnight, marinating in the dressing.
Once the crust has completely cooled, spoon the mixed vegetables and serve at room temperature.