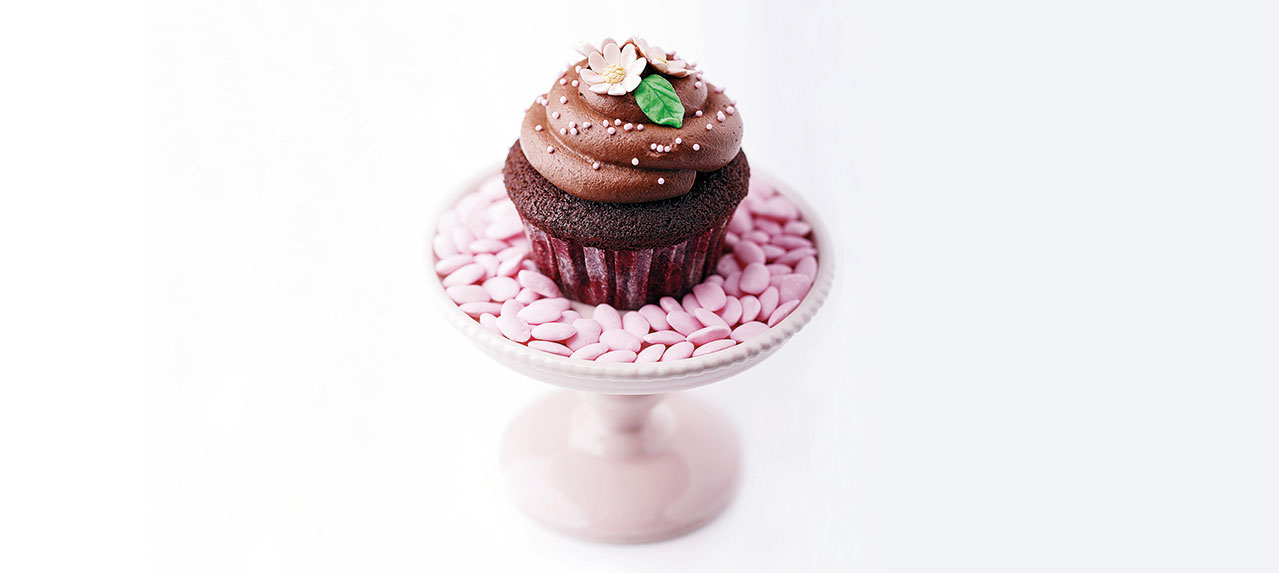 40g cocoa powder
90g hot water
150 flour
½ tsp baking soda
½ tsp baking powder
½ tsp salt
½ tsp vanilla
175g butter
200g sugar
2 large eggs
60g fresh cream
Chocolate ganache filling
20g milk
40g fresh cream
90g chocolate
6g butter
Frosting
100g chocolate
65g cream cheese
30g butter, room temperature
95g powder sugar
10g cocoa powder
35g fresh cream
Pinch of salt
1. Preheat the oven to 200°C.
2. Mix cocoa powder with the hot water.
3. Melt the butter with the sugar in a saucepan, stirring constantly.
4. Pour the sugar mixture into a mixer and mix 4-5 minutes until it cools down. Add the eggs one at a time, then the cocoa. Finally add the sifted dry ingredients 3 times, alternating with the fresh cream. Pour the mixture in cupcake tins lined with baking cups, and put in the oven for 18-20 minutes.
5. For the chocolate filling, heat the milk with the fresh cream in a saucepan. When it starts boiling, remove from the fire and add the chocolate.
6. When the mixture is smooth, add the butter.
7. Heat the chocolate in a bain-marie, mix well and let cool for 15 minutes or until barely warm.
8. For the frosting, put the cream cheese in the bowl of a mixer and mix until smooth. Add the butter and mix for 3 minutes. Then gradually add the other ingredients in the following order: powder sugar, cocoa powder, salt, chocolate, and fresh cream. Mix until the texture is smooth.
9. To assemble the triple chocolate cupcake, poke a hole in the center of the cupcake when cool and fill with one teaspoon of chocolate ganache. Pipe the frosting on top with a piping bag, and decorate with sprinkles.