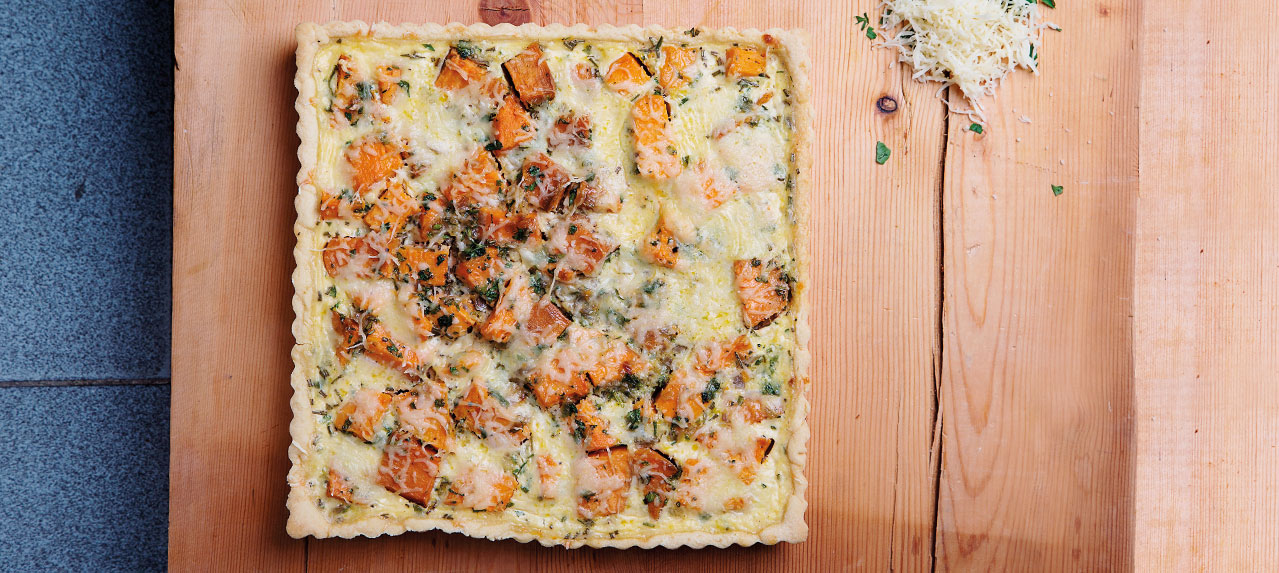 For the Filling
500g sweet potatoes, cut into 2 cm cubes
1 red onion, finely chopped
2 tbsp olive oil
1 handful parsley, finely chopped
150g shredded Gruyère cheese
200 ml heavy cream
2 eggs
1 tsp rosemary, finely chopped
Salt and freshly ground black pepper, to taste
1. Preheat oven to 180°C.
2. In a medium oven-proof dish, toss together the sweet potatoes, onions and olive oil. Season with salt and freshly ground black pepper, to taste.
3. Bake 30 minutes or until potatoes are tender, stirring after 10 minutes. Cool completely and then
stir in parsley.
4. In the meantime, roll the pastry on a lightly floured surface, about 0.5 cm in thickness, to fit in the tart tin. Press into the edges. Trim off excess piecrust along edges and chill in the fridge for 30 minutes.
5. Line piecrust with parchment paper, and fill with dried beans. Bake for 15 minutes.
6. Remove weights and parchment paper; bake 10 more minutes.
7. Cool completely on baking sheet on a wire rack.
8. Layer half of sweet potato mixture and half of cheese in tart shell; repeat layers once.
9. Whisk together the heavy cream, eggs and rosemary. Pour over the cheese.
10. Bake at 180°C for 35 to 40 minutes or until set. Cool tart on baking sheet on a wire rack 15 minutes.