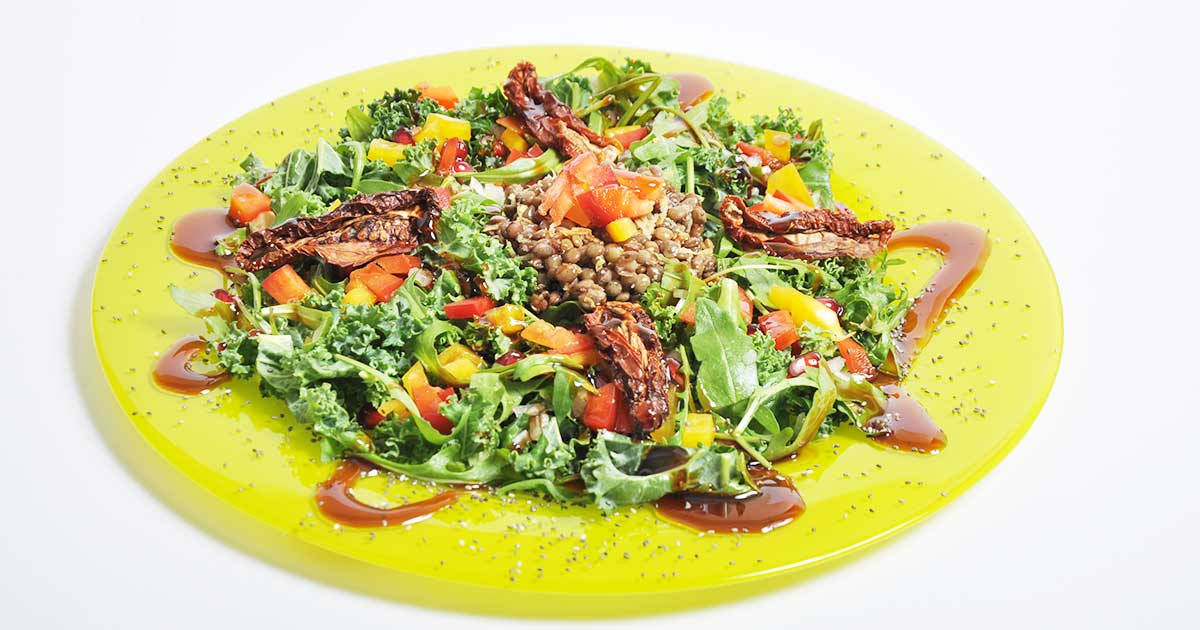 33g kale
24g baby rocket leaves
20g red and yellow peppers, thinly sliced
20g chopped red onion
37g pomegranate seeds
1 tsp lemon zest
35g cooked green lentils
3 pieces of sundried tomatoes
Dressing
1 tbsp pomegranate molasses (debs el remmen)
1 tsp chia seeds
1 tsp Extra Virgin olive oil
15g lemon juice
Salt and pepper to taste
1. For the dressing, in a small bowl whisk together the lemon juice, pomegranate molasses, olive oil, chia seeds, salt and pepper.
2. Remove the center ribs and stems of the kale; discard. Chop the leaves until fine but still a little leafy.
3. Toss the kale with lemon juice until well coated and set in the refrigerator for about half an hour.
4. Rinse the green lentils very well and cook according to the package, then set aside.
5. Let cool and stir in the lemon zest.
6. In a large bowl, combine kale, baby rocket leaves, pepper and onion slices, green lentils and pomegranate seeds.
7. Toss gently with the dressing.
8. Spread sundried tomatoes on top and serve.