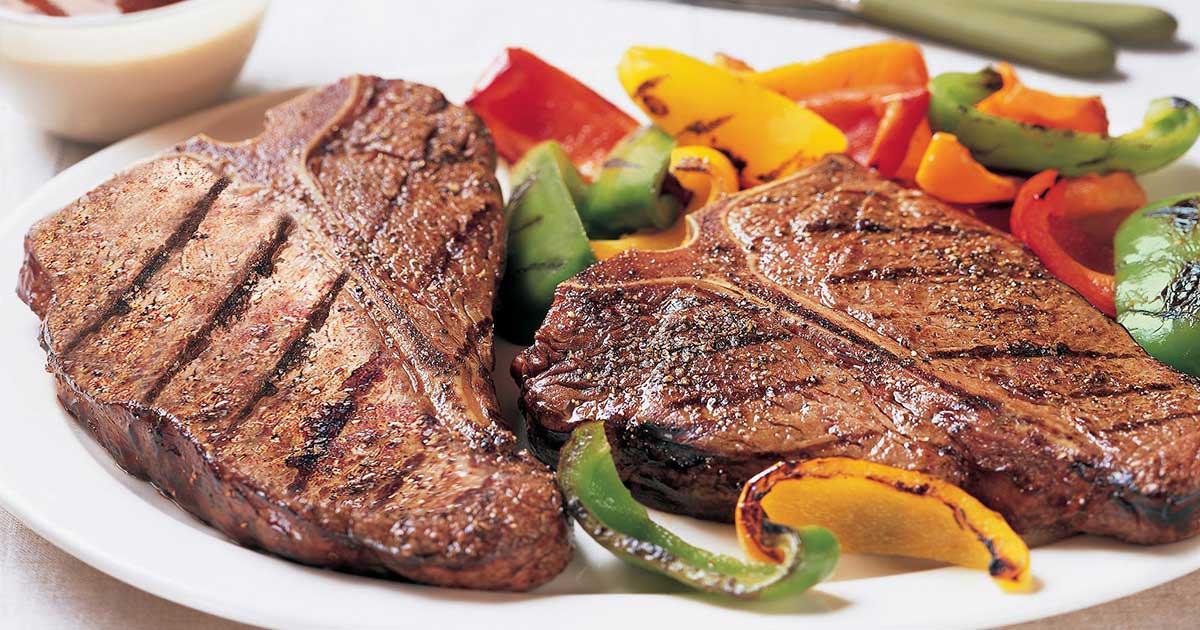 Photo: Courtesy of the Beef Checkoff
Nutrition information per serving
335 Calories; 11 Calories from fat; 11g Total Fat (3 g Saturated Fat; 5 g Monounsaturated Fat;) 48 mg Cholesterol; 1984 mg Sodium; 35 g Total Carbohydrate; 3.1 g Dietary Fiber; 26 g Protein; 4.5 mg Iron; 5.1 mg Niacin; 0.5 mg Vitamin B6; 1.9 mcg Vitamin B12; 4.6 mg Zinc; 9.8 mcg Selenium.
2 U.S. beef T-Bone Steaks, cut 1 inch (2.54 cm) thick (about 453.60g each)
3 tbsp coarsely ground mixed peppercorns (black, white, green and pink)
2 tsp kosher or table salt
1/8 tsp ground red pepper
2 tsp vegetable oil
1/4 cup chopped onion
1 tsp minced garlic
1 cup ketchup
1/2 cup beef broth
1/3 cup raisins
3 tbsp balsamic vinegar
1 tbsp molasses
1 tbsp soy sauce
Additional beef broth (optional)
This recipe for lean U.S. T-Bone steaks includes a homemade Spicy Peppercorn Steak Sauce for big flavor!
1. Combine Five-Pepper Seasoning ingredients in small bowl; mix well.
2. Reserve 2 teaspoons for Spicy Peppercorn Steak Sauce. Set aside remaining mixture for seasoning beef steaks.
3. To prepare Spicy Peppercorn Steak Sauce, heat oil in small saucepan over medium heat until hot.
4. Add onion and garlic; cook and stir 1 to 2 minutes or until tender but not browned.
5. Stir in ketchup, broth, raisins, vinegar, molasses, soy sauce and reserved 2 teaspoons Five-Pepper Seasoning; bring to a boil.
6. Reduce heat; simmer gently 10 minutes to blend flavors, stirring occasionally. (Sauce will thicken slightly.)
7. Place sauce in blender or food processor container. Cover; pulse on and off for slightly chunky texture. (For a thinner sauce, additional broth may be added 1 tablespoon at a time; pulse on and off after each addition.) Return sauce to saucepan; keep warm until ready to serve.
8. Press remaining Five-Pepper Seasoning evenly onto beef steaks.
9. Place steaks on grid over medium, ash-covered coals.
10. Grill, covered, 11 to 16 minutes (over medium heat on preheated gas grill, 15 to 19 minutes) for medium rare (62.77⁰C) to medium (71.11⁰C) doneness, turning occasionally.
11. Remove bones; carve steaks crosswise into slices. Serve with sauce.
This recipe is an excellent source of Protein, Iron, Niacin, Vitamin B6, Vitamin B12, and Zinc; and a good source of Dietary Fiber, and Selenium. 
Tips: Spicy Peppercorn Steak Sauce may be prepared ahead and frozen in an airtight container for up to 2 months. To reheat, heat from frozen in a saucepan over medium heat until hot, stirring occasionally.