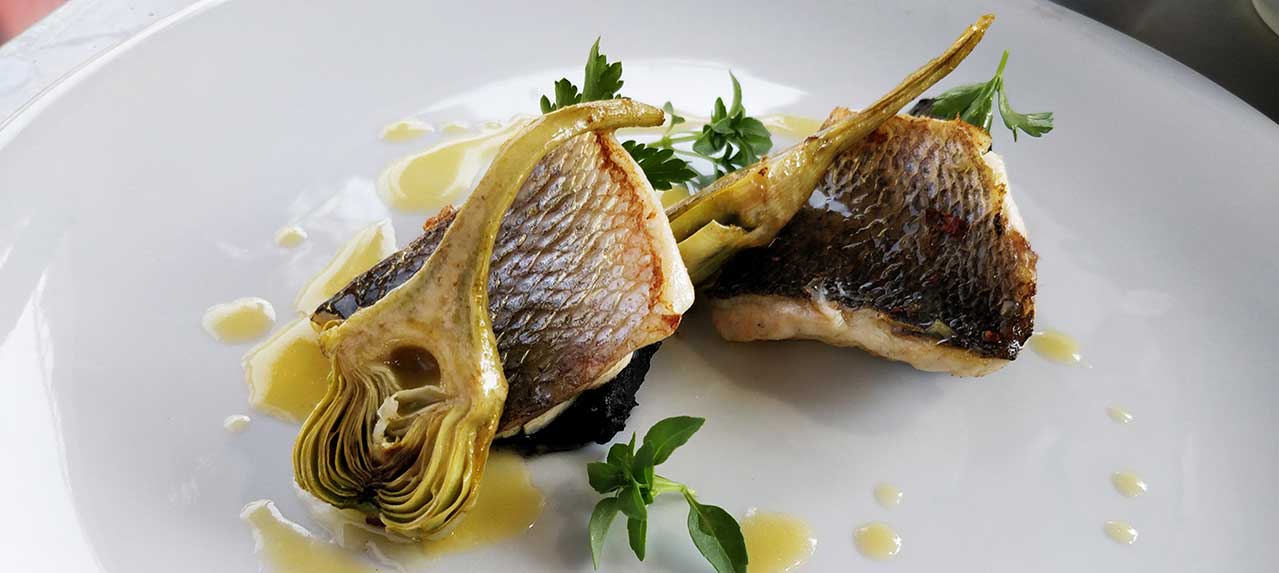 500gr sea bass
150gr peeled potato
2pcs artichoke poivrade
10gr squid ink
15gr butter
20gr olive oil
12gr basil
5gr parsley
75gr mirepoix
15gr Himalayan salt
6gr freshly milled black pepper
lemon juice
1. Peel the artichoke, heat a hot pan, place artichokes in add olive oil and garlic.
2. Fillet the seabass and debone.
3. Add the bones to hot water, add mirepoix and left over of artichoke.
4. Boil the potato in the fish broth and boil untill it's soft.
5. Mash the potato.
6. Mix it in a bowl with squid ink, salt, pepper, butter and extra virgin olive oil.
7. In the same pan of the artichoke, add the fish filet and cook until it's golden color.
8. Remove the fish and the artichoke from the pan, add some broth and lemon juice and than let it monte au beurre.
PLATING:
9. Make quenelle with potato. Put the fish filet on it then add the artichoke, cover it with cloche and put the smoking gun tube on it for 1min.
10. Remove the cloth add the lemon sauce and some basil and parsley for decoration.