Serves 4 | Preparation 45 mins Cooking 8 mins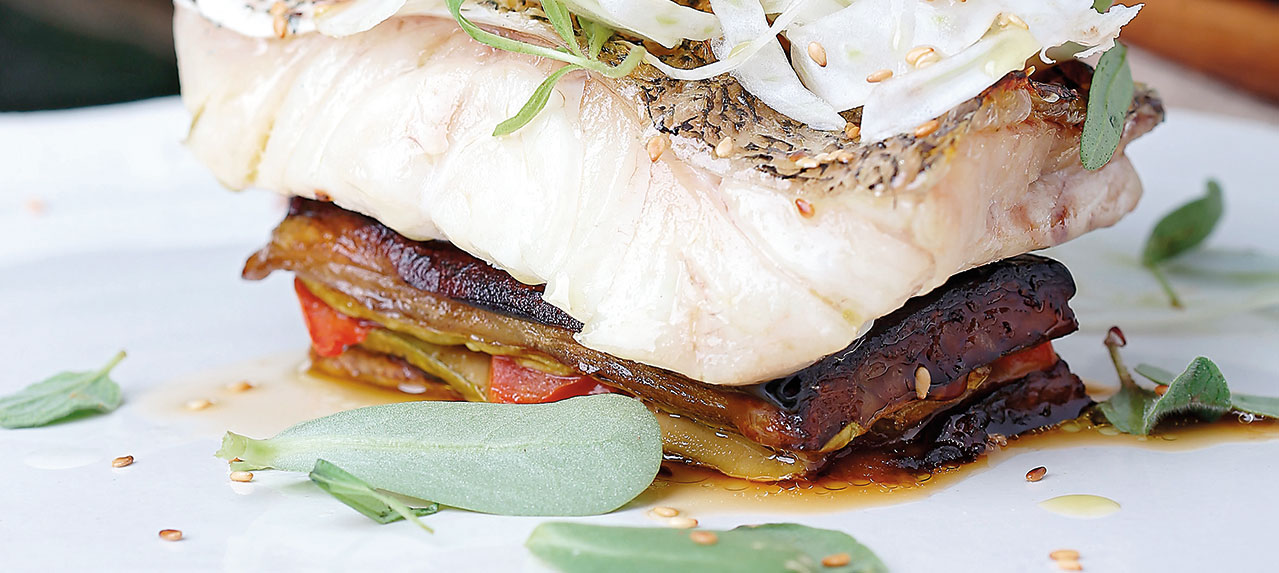 1kg sea bass fillet
1 large eggplant
2 zucchini
1 large tomato
50 ml oil
1 fennel bulb
½ bunch of zaatar
½ bunch of purslane
½ bunch of coriander
½ bunch of wild thyme
50g sesame seeds
1 lemon
10g sumac
salt
pepper
1. Season the sea bass fillet with salt and pepper, sprinkle with sumac and brush with olive oil.
Marinate for 30 minutes.
2. Steam the fish for 8 minutes.
3. Cut eggplant into thick slices, skin removed. Put in the oven to roast until brown.
4. Cut the tomato into slices, half a centimeter thick. Cut the zucchini into slices half a centimeter thick and blanch them quickly in boiling water.
5. For plating add a slice of eggplant, cover with tomato and zucchini and season with salt and pepper. Repeat two or three times according to desired size.
6. For the sauce, prepare the mixture of herbs, zaatar, wild thyme, purslane, coriander, and thin fennel slices, then sprinkle with toasted sesame seeds and sumac. Mix with salt, pepper and lemon juice.