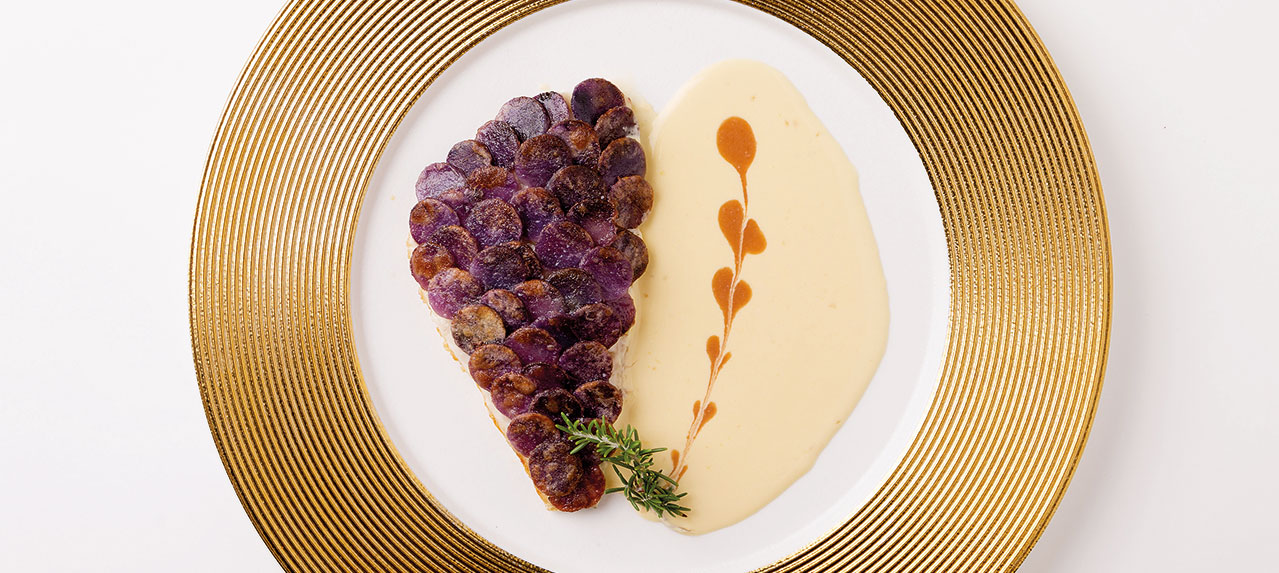 150g sea bream
100g purple potatoes
1 egg yolk
10g clarified butter
20g veal juice
10g olive oil
4g potato starch
70g orange juice
1 rosemary sprig
10g white wine
100g fresh cream
0.5g black pepper
1g fine salt
1. Remove the edges of the fish using tweezers.
2. Cut two rectangles of parchment paper slightly larger than the fish fillets. Put the fish on it with skin on top.
3. Peel the potatoes, wash them and slice them very thinly. Cut them as thin scales with an apple corer.
4. Put the potato flakes in a pan. Cover them with cold water. Then boil the potato for 1 minute and drain.
5. Place the flakes in a container of clarified butter. Mix. Add to the mixture the potato starch using a teaspoon.
6. Mix the egg yolk, water and a pinch of salt using a teaspoon. Brush the top of the fish fillets and its sides.
7. Arrange the scales of potato on the fish starting by the head till the tail while overlapping them. Leave them 15 minutes in the refrigerator.
Sauce preparation
1. Squeeze the oranges. Pour the juice into a saucepan with the rosemary needles and reduce to dry on medium heat.
2. Add the white wine and reduce by half. Incorporate the cream, the salt and the pepper.
3. Reduce the sauce by half over high heat for about 10 minutes until it is homogenized.
Cooking process
1. Cover the pan with olive oil.
2. Place the sea bream in the pan and cook for 5 minutes until the potato becomes crispy.
3. Filter the sauce. Cover the plate with the sauce. Draw some scales of veal juice.
4. Place the sea bream on the serving plate.
Tip: you can dress the sea bream with zuchini instead of purple potatoes!