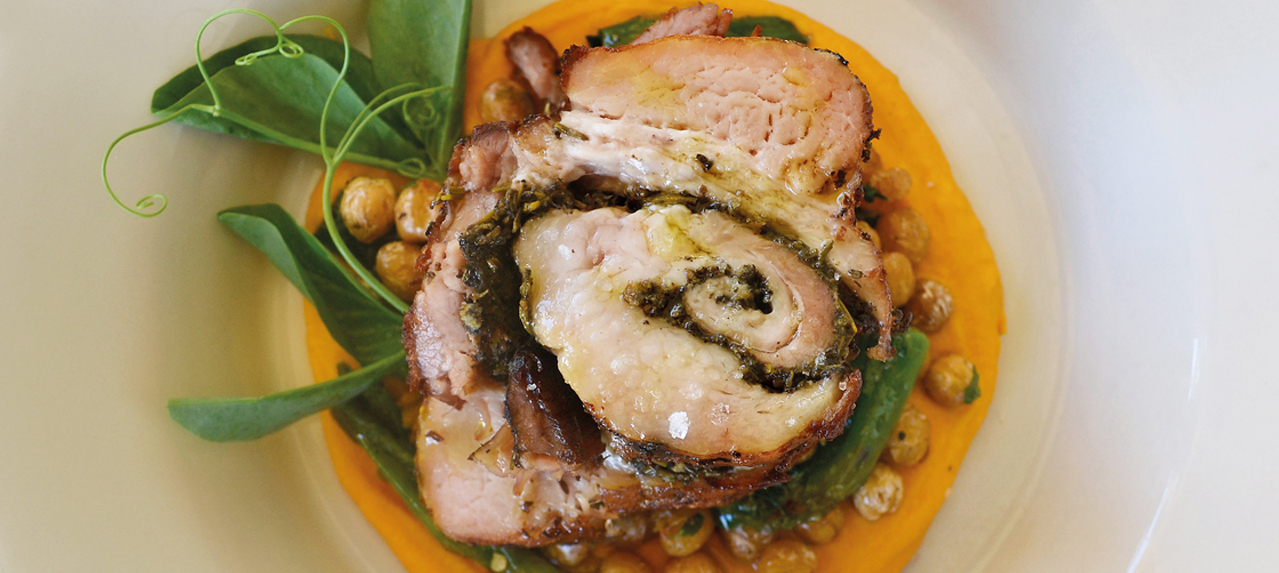 • 900g skinless pork belly
• ¼ cup sage, chopped
• ¼ cup rosemary, chopped
• ¼ cup oregano, chopped
• 2 cups large carrots, diced
• 8 tbsp butter, unsalted, melted
• 1 cup Shishito pepper, sliced
• 1 cup chickpeas
• 2 tbsp mint, chopped
• 2 tbsp basil, chopped
• 1 shallot, minced
• 3 garlic cloves, minced
• 1 cup apple cider vinegar
• ½ cup cranberries, dried
• 2 tbsp flour
• 2 cups beef stock
• 1 cup chicken stock
• Salt & pepper, to taste
• Olive oil
1. Season pork belly on both sides with salt and pepper. Mix herbs together in a small bowl and cover the meat side in herbs. Roll into a cylinder and tie with kitchen twine. Preheat your oven to 160°C.
2. In a large skillet or pot, drizzle in a little olive oil and place meat inside. Sear on all sides then transfer into your oven. Cook for 3-4 hours.
3. For the carrot purée, boil carrots in a pot of water. Once softened, transfer carrots to a blender, with a touch of carrot water, and melted butter. Add a touch of salt and purée until very smooth.
4. For the sauté, heat a sauté pan on high heat. Once it just starts to smoke when oil is placed inside, add pepper and chickpeas. Cook for 3 minutes and season with salt and pepper. Turn off the heat and add mint and basil. Toss for 30 seconds then remove.
5. For the sauce, in a medium-sized pot on medium high heat, add shallot and garlic with a touch of oil. Cook for 4-5 minutes then add vinegar and cranberries. Cook for another minute and stir in flour. Cook for another minute and add both stocks.
6. Adjust seasoning with salt and pepper and bring to the boil and reduce by half. Reduce to simmer and let cook until the sauce coats the back of a spoon.
7. To place, spoon purée on the bottom of the plate. Place sauté mixture in the middle, a slice of the Porcetta on top, and add sauce.