PAN SEARED SEABASS WITH TOMATO SALAD AND PESTO SAUCE
Serves 3 | Cooking time 45 mins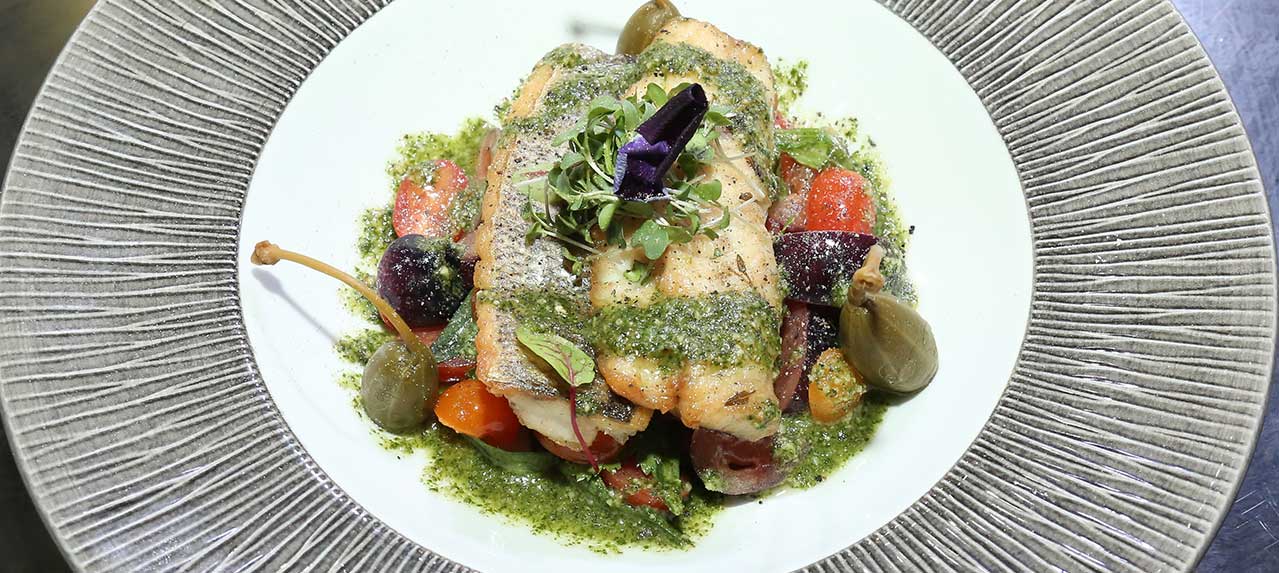 350grm Seabass
1/2 cup Olive Oil
French thyme
Salt & Pepper to taste
6Cherry Tomatoes (red, yellow, black)
1 cup Parsley leaves
1 cup Coriander leaves
1 cup Local Zaatar leaves
Half cup Black  olives
Half cup Green Onion (the green part)
1 cup Lemon Juice
2 cups Olive oil
1 spn Dijon or any kind of mustard
1 spn Honey
Salt & Pepper to taste
175g Fresh Basil
3 cups Olive Oil
1 cup Parmesan Cheese
1/2 cup Pine nuts or any kind of nuts
2 cloves Garlic
Salt & Pepper to taste
1. Take the fish (or filet) out of the fridge about 10 minutes before cooking. Sprinkle with salt and pepper on both sides and set aside.
2. In a medium-sized pan, heat the Olive oil over medium-high heat until hot but not smoking cook the fish skin side down first and then turn it to the other side until its cooked.
3. For the Lemon Olive oil dressing in a small bowl or in a blender add lemon juice salt pepper honey and mustard mix well then add the olive oil slowly till you have a creamy mixture.
4. For the salad chop all the tomatoes and put them in a large bowl, add the fresh herbs green onions olives and pomegranates. Add your dressing to the salad mix well and set aside for 10 min (that will help all the flavors to infuse).
5. For the basil pesto sauce add the fresh basil leaves to a food processor and the parmesan cheese garlic salt and pepper to taste also the roasted pine nuts and pulse start adding the Olive oil slowly. You should have a smooth sauce but you can keep it granulated if you like.