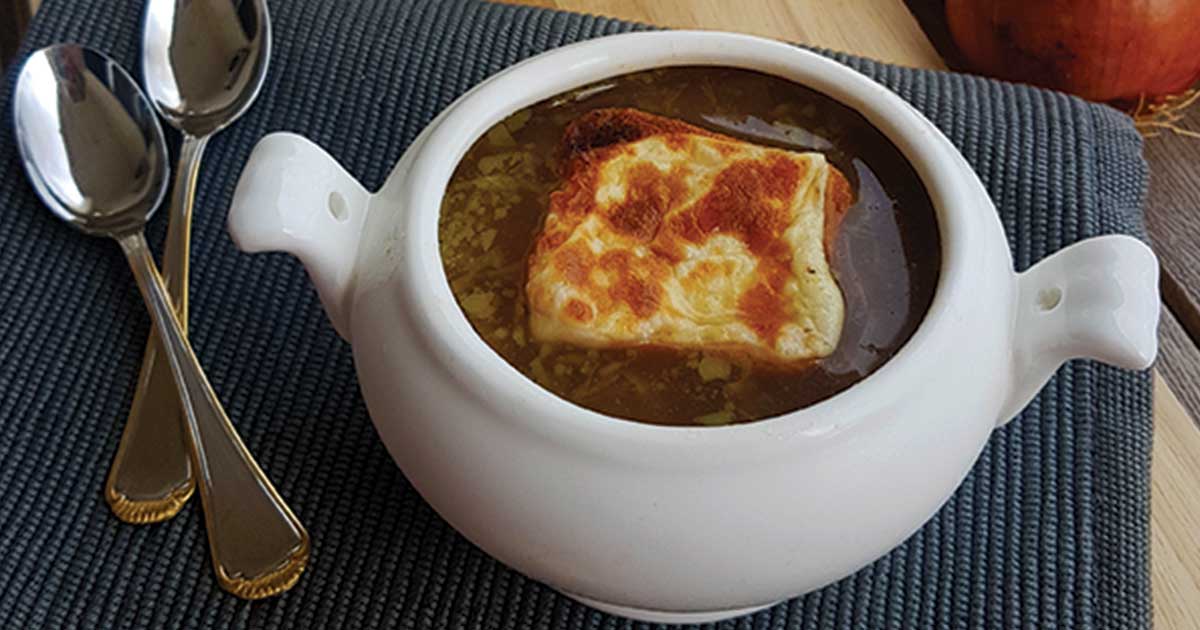 2 tbsp butter
2 tbsp olive oil
4 medium yellow onions, sliced
2 garlic cloves, chopped
2 bay leaves
2 thyme sprigs or 1/2 tsp dried
1/4 tsp sugar
1/2 cup dry white wine
3 tbsp flour
6 cups beef broth
Salt and black pepper to taste
Toasted bread slices and shredded cheese (provolone, Gruyere, parmesan or Swiss) for serving
1. Melt butter with olive oil in a pot over medium heat.
2. Add onions, garlic, bay leaves, thyme, and sugar and continually stir until tender and lightly browned.
3. Add wine, bring to a boil then reduce the heat and simmer until the wine has evaporated and the onions are dry, about 5 minutes.
4. Discard the bay leaves and thyme sprigs.
5. Add flour and keep stirring for 10 minutes over low heat.
6. Add beef broth, bring to a boil, then reduce to a simmer and cook covered for 40 minutes.
7. Season to taste with salt and black pepper.
8. For serving, ladle the soup into oven safe serving bowls, top each with a slice of toasted bread and sprinkle the slice with cheese. Broil in preheated oven until cheese bubbles and browns slightly.