MEDITERRANEAN LAND AND SEA, VEGETABLES WITH SMOKED BUTTER
Serves 1 | Prep/cooking 45 mins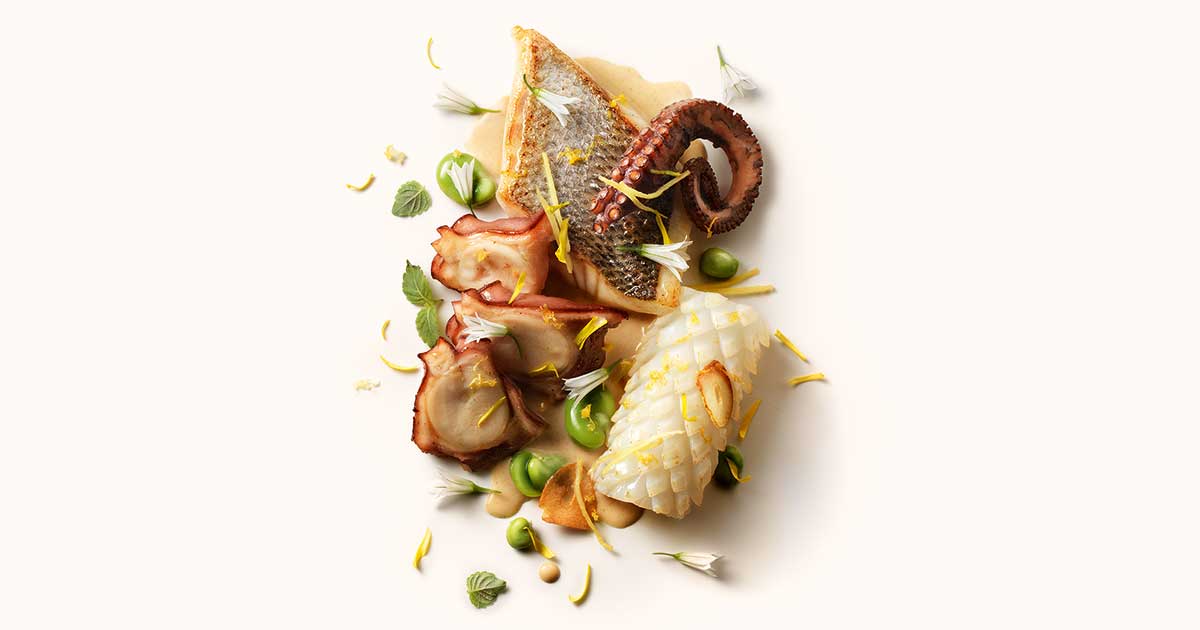 1200g Boiled octopus
35g Cracked garlic
5g Rosemary whole
5g Zaatar zoubaa (Thyme)
2g Bay leaves
5g Sage
3g Smoked paprika
5g White pepper
5g Black pepper
200 ml Clarified butter
2L Water
100g Lemon
25g Rough salt
50g Thyme
1000g Raw cleaned octopus
100 g Celery juice
100 g Fennel juice
300 g Mushroom kelp
100 g Brown butter
220 g Smoked butter
20 g White balsamic vinegar
Salt
20g Clarified butter
5g Cracked garlic
5g Cracked ginger
35g Calamari
40g Sea bass filet
30g Marinated octopus
40g Vegetable sauce
5g Shredded dandelion
10g Peeled boiled large beans
2g Green leaves
10g Lemon zest
1. Separate the octopus tentacles.
2. Mix all the ingredients together and marinate overnight in the fridge.
3. The second day, discard the garlic.
4. Put water in a sauce pot with the halves of lemon, rough salt and thyme. Bring to boil.
5. Separate the octopus head from the body and put it down gently in the boiling water, cook on low fire for 30 to 45 minutes depending on the size.
6. Mix celery, fennel juice and mushroom kelp in a sauce pan, heat up but don't let it boil.
7. Add melted brown butter and take off heat.
8. Using a hand blender, mix in the cold smoked butter piece by piece until emulsified.
9. Add the white balsamic vinegar.
10. Adjust seasoning with salt.
11. Heat the clarified butter and sauté the cracked garlic and ginger.
12. Add the calamari and panfry till it rolls and cooked through. Remove and reserve aside.
13. Add the sea bass, panfry skin side first then flesh side till crispy. Remove and reserve aside.
14. Add the marinated octopus and panfry till caramelized. Remove and reserve aside.
15. Place the vegetable sauce in a plate.
16. Add the shredded dandelion in the center.
17. Add the sautéed calamari, sea bass and octopus.
18. Add the boiled peeled large beans.
19. Garnish with green leaves and lemon zest.