MAFROUKEH WITH MOHALABIYAH CREAM
Serves 10 | Prep/baking 35 mins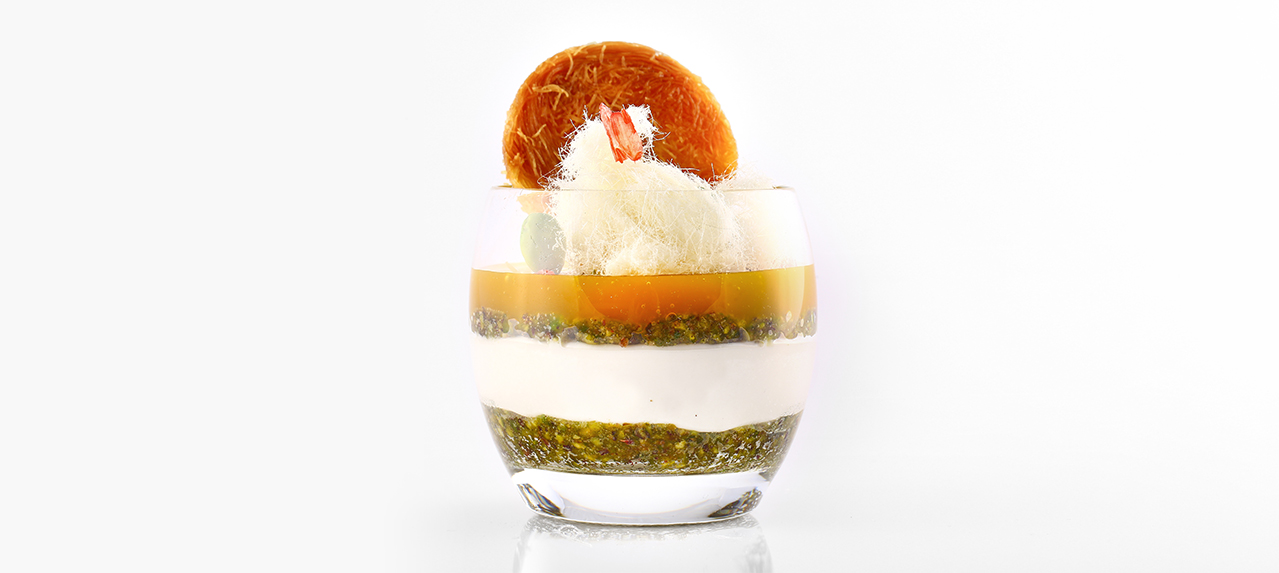 Pistachio mafroukeh
100g 'ferk knefeh' (semolina)
200g sugar
500g pistachio, grounded
50g rose water
50g orange blossom water
Amareddine jelly
200g amareddine purée
4g gelatin
Mohalabiyah
500g milk
100g sugar
20g cornflour
10g rose water
10g orange blossom water
For the Mafroukeh:
1. Mix ferk knefeh with sugar and grounded pistachio.
2. Add the rose and orange blossom water. Continue to mix until the mixture becomes homogenous.
3. Spread the pistachio mafroukeh in a 3mm-thin layer over a plastic wrap.
For the Mohalabiyah:
1. Add the sugar to the milk and bring to the boil.
2. Mix the cornflour into the remaining milk and add the hot mixture. Stir continuously until the mixture comes to the boil. Then add the rose and orange blossom water and continue to stir until the mixture begins to thicken.
3. Take off the heat when the mixture is thick and pour into a flat container.
4. Allow to cool off and place in the refrigerator.
For the Amareddine jelly
1. Over medium heat, bring amareddine purée to the boil. Add the gelatin.
2. Place in fridge to cool.
Preparation
1. Place one disc of pistachio mafroukeh in the bottom of a glass.
2. Pour the mohalabiyah over the mafroukeh pistachio.
3. Place second disc of pistachio mafroukeh over the mohalabiyah.
4. Pour the amareddine jelly on top.
5. Decorate with cotton candy ('gazl bannet'), orange blossom petals and roasted 'osmalieh'.