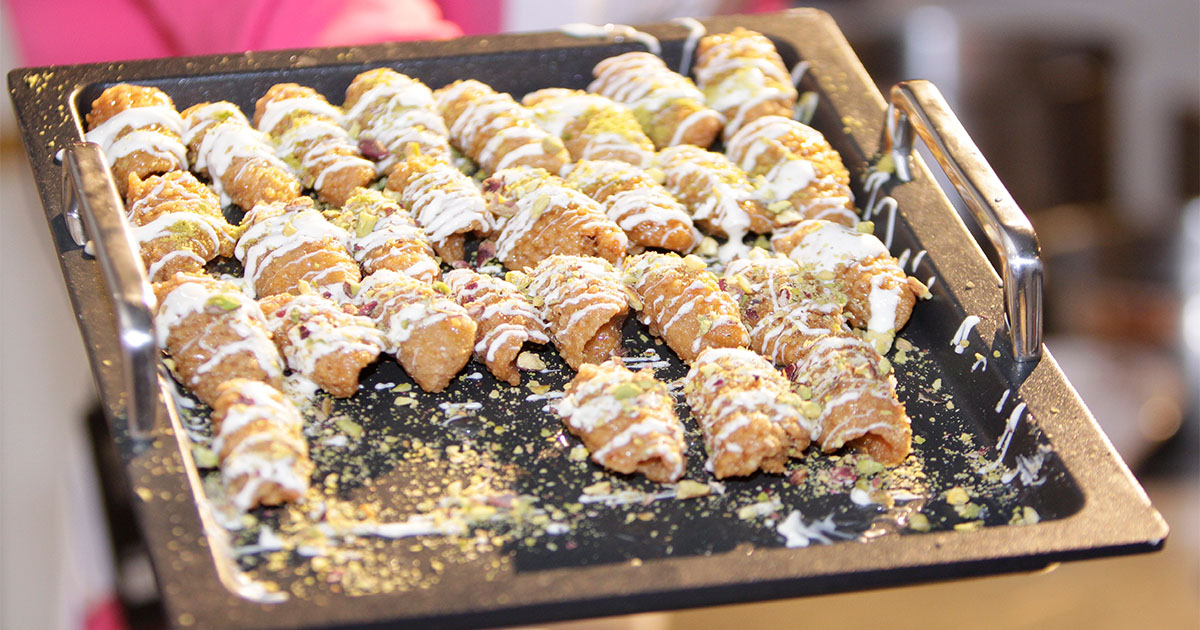 500g all-purpose flour
250 fine semolina
125 ml (half cup) vegetable oil
125 ml (half cup) melted butter
2.5 ml (half tsp) instant yeast
7.5 ml (half tbsp) anise powder
7.5 ml (half tbsp) mahlab spices
250ml (1 cup) Anise water (1 tsp anise seeds,1 cup water)
Sugar syrup
250ml sugar (1 cup)
125 ml water (half cup)
1 tbsp lemon juice
1tsp rose water
1 tsp orange blossom water
To drizzle
200 g white chocolate
100 g crushed pistachio
1-Mix the dry ingredients together.
2-Melt the butter and let it cool.
3- Prepare the anise water by boiling 1 tsp. anise seeds with 1 cup of water (let it cool to room temperature).
4- Add oil and butter to the mixture, mix well and start adding the anise water gradually. You might need a few more drops of water depending on the flour. Mix well and let it rest for 10 mins.
7- Start shaping the maakroun.
8- Fry on medium heat.
9- Remove from oil and directly deep sugar syrup for 20 seconds before placing on the serving plate.
Sugar syrup
Mix water and sugar, bring to boil.
Let it simmer for 10 mins.
Add lemon juice with rose water and orange blossom water.
NB: For this quantity of macaroon, you need to double the sugar syrup quantity