CHOCOLATE HAZELNUT FINANCIER
Serves 10 | Prep./Baking Time 60 mins | Refrig. Time 4 hours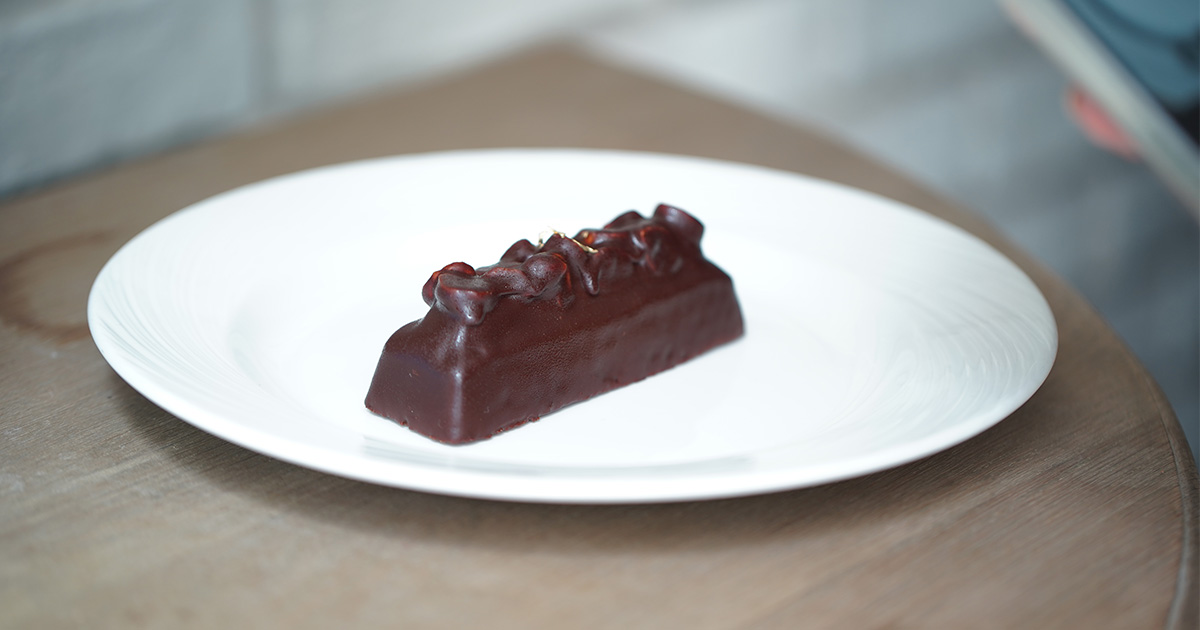 CARAMELIZED HAZELNUTS
300 g skinned hazelnuts
100 g water
100 g caster sugar
30 g inverted sugar
CHOCOLATE FINANCIER
500 g unsalted butter
300 g dark chocolate (Valrhona Guanaja 70%)
600 g powdered sugar
300 g almond powder
200 g pastry flour
540 g egg whites
50 g of honey
5 g fine salt
HAZELNUT CARAMEL
70 g glucose syrup
220 g caster sugar
390 g heavy cream 35.1% fat (Elle & Vire)
3 g sea salt flakes (Maldon)
210 g hazelnut paste
17 g gelatin mass
CHOCOLATE GLAZE
1000 g dark chocolate (Valrhona Guanaja 70%)
200 g grapeseed oil
CARAMELIZED HAZELNUTS
For approximately 8 to 12 mins, toast the hazelnuts on a parchment-lined sheet pan at 160°C until lightly golden and hot.
Pour the sugar and inverted sugar into a heavy saucepan filled with water.
Once the mixture boils, pour the hot syrup over the toasted hazelnuts. Leave it to rest for 30 minutes.
Strain the excess syrup off the hazelnuts, then place them on a baking tray.
For approximately 7 to 10 minutes, bake in a 160°C oven until golden color.
CHOCOLATE FINANCIER
Place the butter in a large saucepan over medium-high heat and let it simmer.
Cook until the butter's color becomes nutty brown, then remove from the heat. Strain through cheesecloth and set aside.
Melt the browned butter and chocolate over a double boiler to 49°C. Maintain this temperature.
In a bowl pour the powdered sugar, almond powder, and flour, and mix them well with a whisk.
Stir the egg whites and inverted sugar with a spatula in four increments, homogenizing well after each addition.
Add salt, the browned butter with the chocolate and blend very well.
Refrigerate at least for 4 hours, preferably overnight, to ensure the cakes reach their full volume.
Using a pastry bag fitted with a large plain tip, pipe the batter into a silicone oval savarin mold.
Bake at 175°C until the cakes bounce back when lightly pressed in the center for approximately 12 to 15 minutes.
HAZELNUT CARAMEL
In a nonreactive saucepan, bring the glucose syrup to a boil.
Add the sugar gradually and stir until it reaches an amber caramel.
While the sugar cooks, boil the cream with the sea salt.
Deglaze the caramel with the boiling cream.
Cook until the mixture reaches 223°F /106°C on a candy thermometer. Remove from heat.
Add the hazelnut paste and gelatin mass and stir with an immersion blender until smooth without aerating the mixture. Cool completely at room temperature.
Caramel may be stored for several weeks under refrigeration. Stir before using.
CHOCOLATE GLAZE
Combine the chocolate and grapeseed oil.
Melt in the microwave or a bain-marie over simmering water to 40°C and 45°C.
Remove from the heat. Use this glaze when it is between 30°C and 35°C.