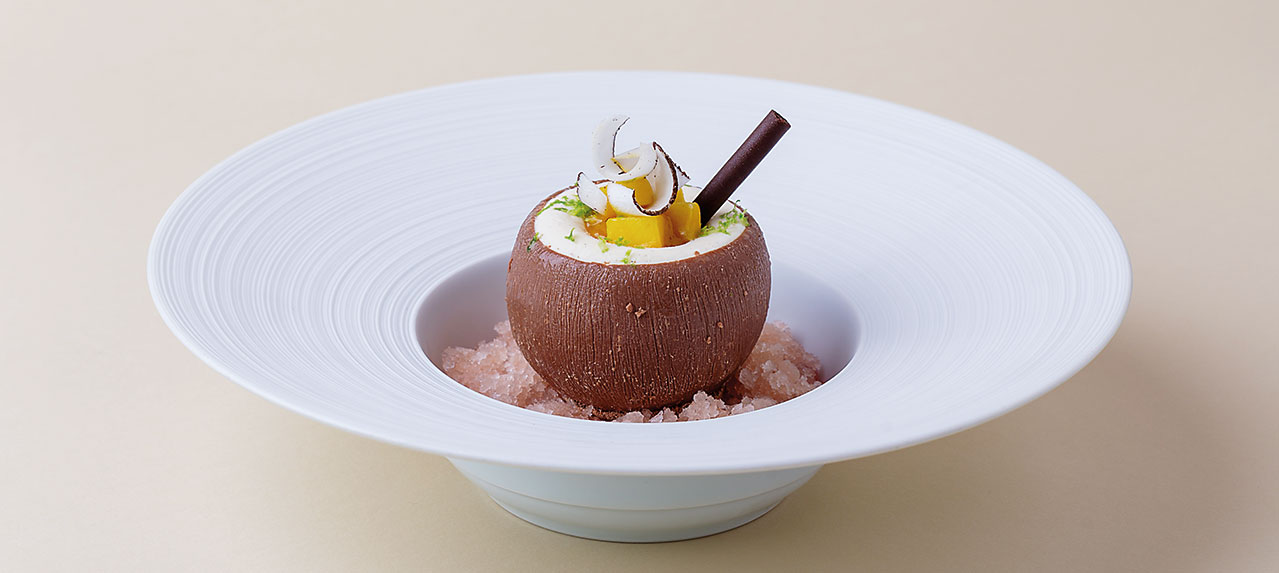 Coconut Blanc-Manger
122g coconut cream
200g glucose sugar syrup
35g raw almond powder
40g gold gelatine leaves
210g white chocolate
0.5L whipping cream
½ vanilla bourbon pod
Grapefruit Granita
500g grapefruit juice
50g sugar
50g water
Roasted Exotic Fruits
375g mango
125g pineapple
150g light brown sugar
5g mango purée
8g passion fruit purée
1. Heat coconut cream with vanilla cut in half and sugar glucose.
2. Soak the gelatine in cold water then drain after 20 minutes.
3. Pour coconut cream mix in 3 times on top of the white chocolate. Mix properly.
4. Add the whipping cream and blend well.
5. Pour into sphere mold and freeze.
6. Remove from mold and pour ¾ of it on melted milk chocolate.
7. Roasted Exotic Fruit. Peel and cut the mango into two.
8. Melt sugar and mix with mango and passion fruit purée.
9. Place mango halves in the mix and coat with caramel.
10. Bake at 190°C for 5 minutes. Cool.
11. Grapefruit Granita. Boil the water with the sugar. Add grapefruit juice. Put in container and in the freezer.
12. Wait 24 hours and scratch the frozen juice with a fork.
13. Place one scoop of Granita on a plate topped with the coconut's shell dessert.