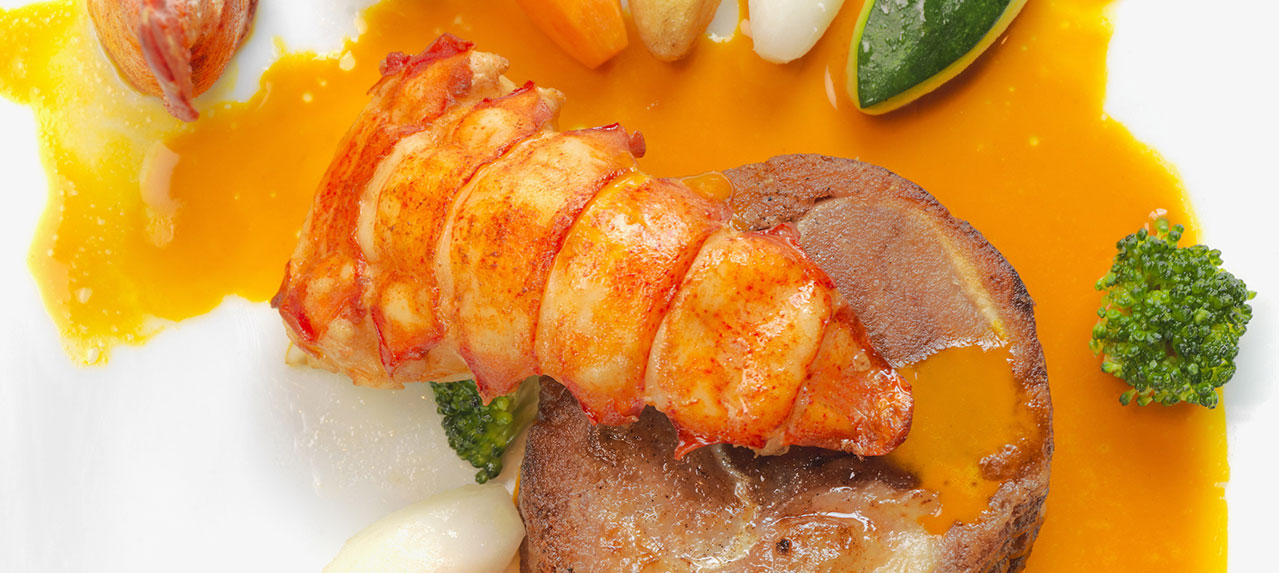 • 3 lobsters 650/800
• 30g butter
Veal
• ½ veal head
• ½ an onion
• 1 carrot
• Water with coarse salt
Garnish
• 4 potatoes BF 15
• 2 carrots
• 1 turnip
• 1 zucchini
• 6 cherry tomatoes
• 6 paris mushrooms
• ½ a broccoli
• 100 ml white stock
• 110g butter
• Thyme
• Olive oil
Sauce
• 3 lobster heads
• 40 ml olive oil
• 40 ml cognac
• 1 carrot
• ½ onion
• 200 ml carrot juice
• 25g butter
• Salt & pepper
1. De-shell the lobsters and boil in salted water for four minutes. Cool in ice-water. Cut in two, widthwise. Reserve half the tail for the sauce. Poach the claws for three minutes, and then roast in foamy butter.
2. Braise veal heads with carrots and onions, in salt water for 12 hours. Cool and then cut into slices of 2.5cm.
3. Add potatoes, garlic, and thyme to half-salted melted butter. Bake for 30 minutes at 180°C.
4. Roast cherry tomatoes for five minutes at 180°C with a little salt and a dash of olive oil. Remove the base of the mushrooms, color in a pan with very hot olive oil. Bake for three minutes at 180°C.
5. For the sauce, sauté the lobster heads using hot oil, deglaze and flambé with cognac; add the carrot, onion, and coarse salt, and cover with water.
6. Bake for an hour while skimming to a simmer. Reduce to half the juice and then add the half-reduced carrot juice. Whisk in butter and emulsify. Warm up carrots, zucchini, turnips and broccoli with a little broth and butter.
7. Flour the slices of veal heads and bake for three minutes at 180°C with mushrooms, tomatoes and potatoes.
8. Fry the lobster with half-salted butter and arrange all the elements on a plate, topped with the sauce and serve.