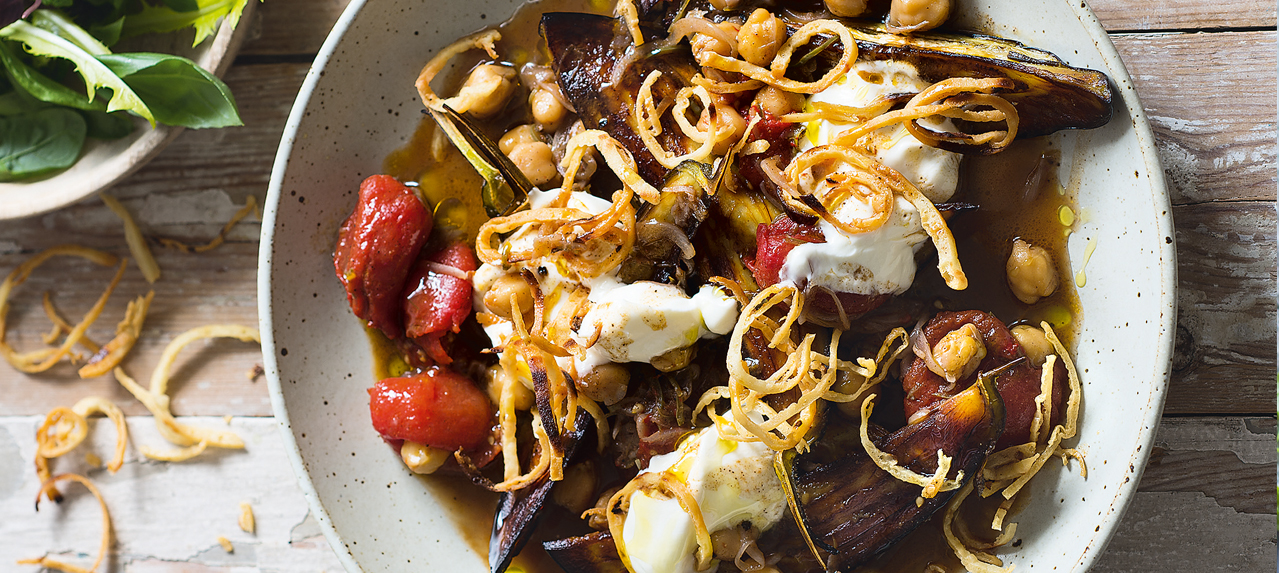 • 500g vine-ripened tomatoes
• Extra-virgin olive oil
• 2 medium onions, thinly sliced
• ½ tsp ground ginger
• ½ tsp ground cinnamon
• ½ tsp ground allspice
• ½ tsp freshly ground black
• 2 long green chillies, seeds removed,
finely shredded
• 250 ml vegetable stock
• Sea salt
• 250g cooked chickpeas
• 1 Arabic bread
• 250g Greek-style yogurt
• 640g eggplant (aubergine),
peeled and cut into fat wedges
1. Preheat the oven to 200°C (400°F). Arrange the tomatoes in a roasting tin and drizzle with a generous tablespoon of oil. Roast for 10 minutes, or until the skins are slightly coloured and splitting away from
the flesh.
2. Set aside until cool enough to handle, then peel away the skins. Heat another few tablespoons of oil in a heavy-based flame-proof casserole or saucepan and add the onions, chillies and spices. Sauté very gently
for 10 minutes, or until very soft and translucent.
3. Add the vegetable stock to the pan and bring to the boil. Add ½ teaspoon of salt and reduce to a simmer.
Tip in the tomatoes with their roasting juices and simmer for 15–20 minutes, or until the liquid has reduced
by around a quarter.
4. Meanwhile, arrange the eggplant in a large roasting tin and toss with 100 ml extra-virgin olive oil and a sprinkling of salt. Roast for 15–20 minutes. Shake the pan from time to time to ensure they colour evenly.
5. Add the chickpeas to the tomato mixture and continue cooking for a further 5 minutes. Finally, add the cooked eggplant (keep the roasting tin to one side and the oven on) and stir in very gently. Roll up the pita
into a tight roll and shred into ½ cm strips.
6. Scatter into the eggplant roasting tin and drizzle with a little more oil. Cook for 5–7 minutes, shaking from time to time, until the bread crisps and browns evenly.
7. Spoon the fatteh into a deep serving bowl. Dollop the yogurt around the edge of the bowl and then scatter the toasted bread over the top. Serve straight away.