Serves 6 | Preparation time 45 min Cooking time 55 mins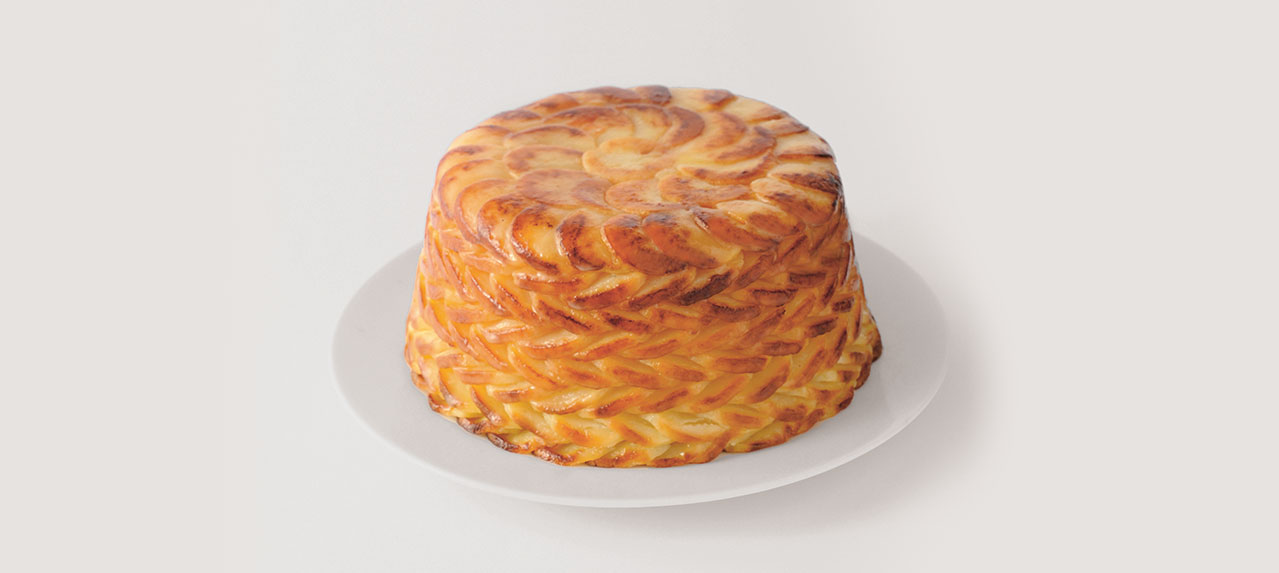 200g sweet butter
250g Comté cheese
12 charlotte potatoes 220g each
Salt, pepper & nutmeg
1. Put the butter to clarify.
2. As the butter melts, finely grate the county.
3. Peel and wash the potatoes. With a knife, cut them into regular cylinders, then remove each end to make them straight.
4. Using a mandolin, cut 4mm thick slices.
5. In a saucepan of boiling salted water, blanch the potato slices for 2 minutes. Then put them on a clean cloth without cooling them. This operation is used to bring out the starch, which will allow the slices to stick together.
6. Generously butter a charlotte mold 9cm in height and 16 cm in diameter using clarified butter.
7. Form a first rosette with the slices of potatoes.
8. Press very lightly with a second mold to keep the slices straight. Repeat the operation to the top (6 times) alternating the direction of rotation each time and incorporating a little grated Comté cheese. This operation is essential, otherwise it will collapse.
9. Pour the remaining clarified butter and reserve in a cool place before cooking.
10. Start cooking for 5 minutes on the plate or on the gas, then bake in a hot oven at 200°C for 45 minutes.
11. Halfway through cooking, cover with a sheet of aluminum foil. This prevents the apple from staining too much and drying out.
12. At the end of cooking, allow to stand for about 15 minutes and lightly press the preparation with the second mold.
13. Remove the excess butter. Unmold to check the color and put the dish back on the gas or plate if necessary.