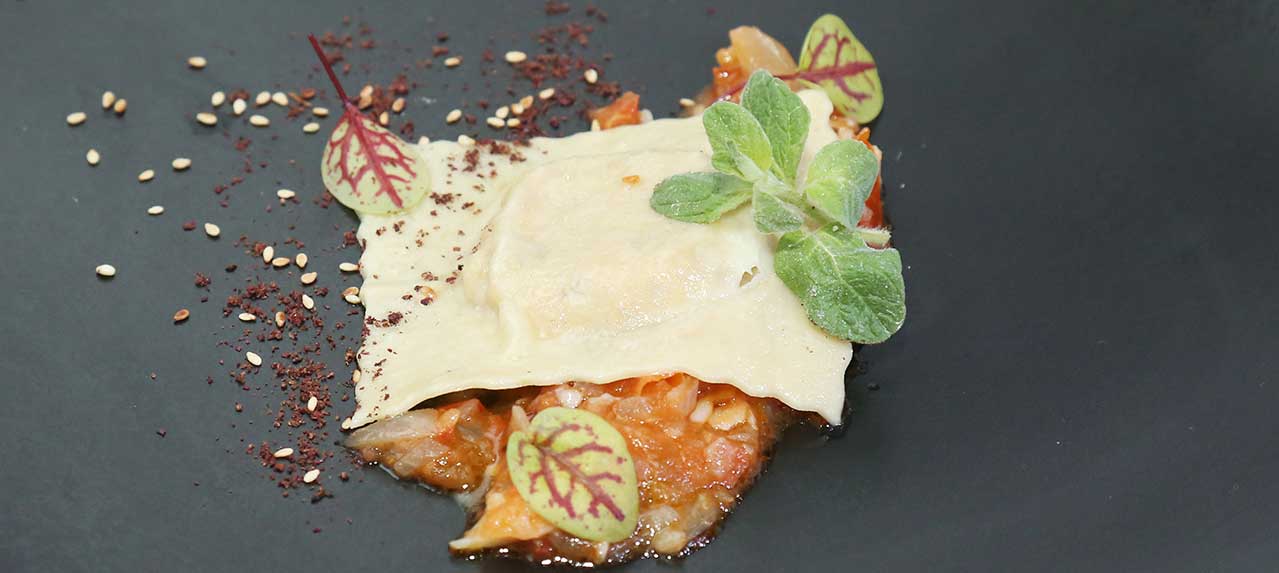 350g Flour
150g Semolina
3g Eggs
20g Olive oil
5g Salt
100g White Cheese / Ariche
50g Dry Kechek
20g Onion
10g Sesame
25ml Olive oil
3g Salt
1g White pepper
50g Sundried Tomato
10g Green Chili
5g Dry Zaatar
Sauce
50g Onion
10g Garlic
20g Olive oil
300g Tomato
5g Basil
10g Zaatar / Fresh Oregano
10g Sugar
1. Mix all the dough ingredients together and mix well until you get smooth texture.
2. Chop the onion, dry tomato and the green chili small diced, than mix them with the white cheese.
3. Dry kishek, zaatar, salt olive oil, sesame & white pepper.
4. Cut the tomato, the onion, the garlic into small dices.
5. Heat sauce pan with olive oil, sautéed the onion and garlic for 3 minutes.
6. Add the tomato, salt, pepper & sugar on the sauce, simmer on low heat for 10 minutes.
7. Finish the sauce with chopped basil & zaatar. Then keep aside.
8. Put the dough on the dough-sheet (sheets to be of 2mm thick), cut square shape 3x3cm.
9. Mix the cheese & kishek. Boil for 3 minutes.
10. Serve with tomato sauce.