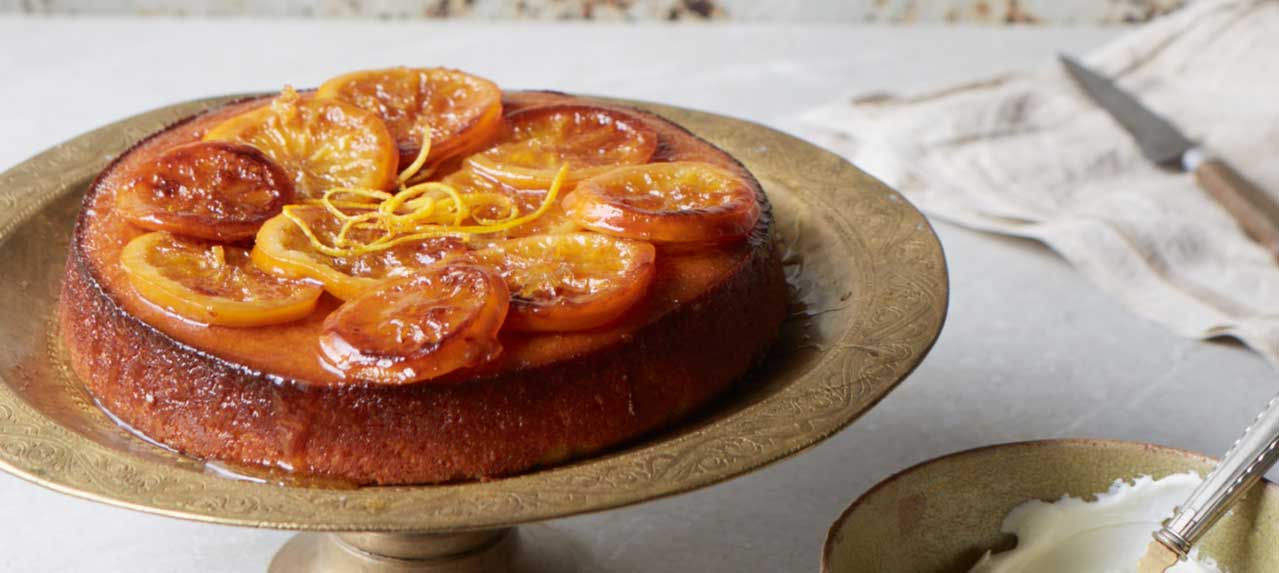 A little butter for greasing
3 oranges
300g caster sugar
6-7 medium eggs
250g ground almonds
Zest of 1 orange
2 tbsp orange blossom water
2 large oranges
100g caster sugar
3 tbsp honey
300ml water
2 tbsp orange blossom water
25g butter
Labneh
Orange zest
1. Grease and line a 25cm loose-bottomed cake tin with baking parchment.
2. Put the three whole oranges into a small pan and cover with cold water. Put a lid on the pan and bring the water to the boil. Once the water is boiling, turn the heat down low and simmer for 1 1/2 hours or until the oranges are tender.
3. When the oranges have finished cooking, preheat the oven to 170°C/150°C fan oven/gas mark x.
4. Drain the oranges then slice each one into quarters. Whip out the end of the stalks if they're still on and any seeds and discard them, then put the soft oranges into a food processor and blitz to make a purée.
5. Tip the sugar into a large bowl and add 350g liquid egg. Whisk with an electric hand whisk for 5-10 minutes until the mixture is thick and foamy. Add the ground almonds, orange zest, orange blossom water and orange purée and fold in until the mixture is smooth. Pour into the prepared cake tin.
6. Bake in the oven for 1-1 1/2 hours until golden on top. Push a skewer into the centre and pull it out to check it's cooked. If it's clean, it's ready. Cool in the tin for 15 minutes, then release the cake tin and cool on a wire rack.
7. For the topping, put the orange into a small pan and add the caster sugar, 2 tbsp honey, water and orange blossom water. Simmer for 3-5 minutes to dissolve the sugar, then continue to simmer the oranges in the syrup until they're tender but still complete and haven't broken up. Drain each piece well.
8. Heat half the butter in a pan over a low to medium heat and add half the slices to the pan.
9. Cook for a minute or two then drizzle over half the remaining honey until one side caramelises. Turn over to cook the other side. Do the same again with the rest of the orange slices, butter and honey until all the pieces are glistening and golden.
10. Start from the outside of the cake and leaving a 2-3cm border round the edge, arrange the orange slices, slightly overlapping until you reach the middle. You'll need around 11 or 12 slices to make it look really chic.
11. Mix a couple of tablespoons of honey with a couple of tablespoons of the syrup and brush over the top to glaze.
12. Spoon the labneh into a bowl and scatter with a little orange zest and serve alongside.