PAN-FRIED FRENCH FOIE GRAS, MANGO TARTAR WITH CORIANDER PASSION FRUIT AND CARDAMOM SAUCE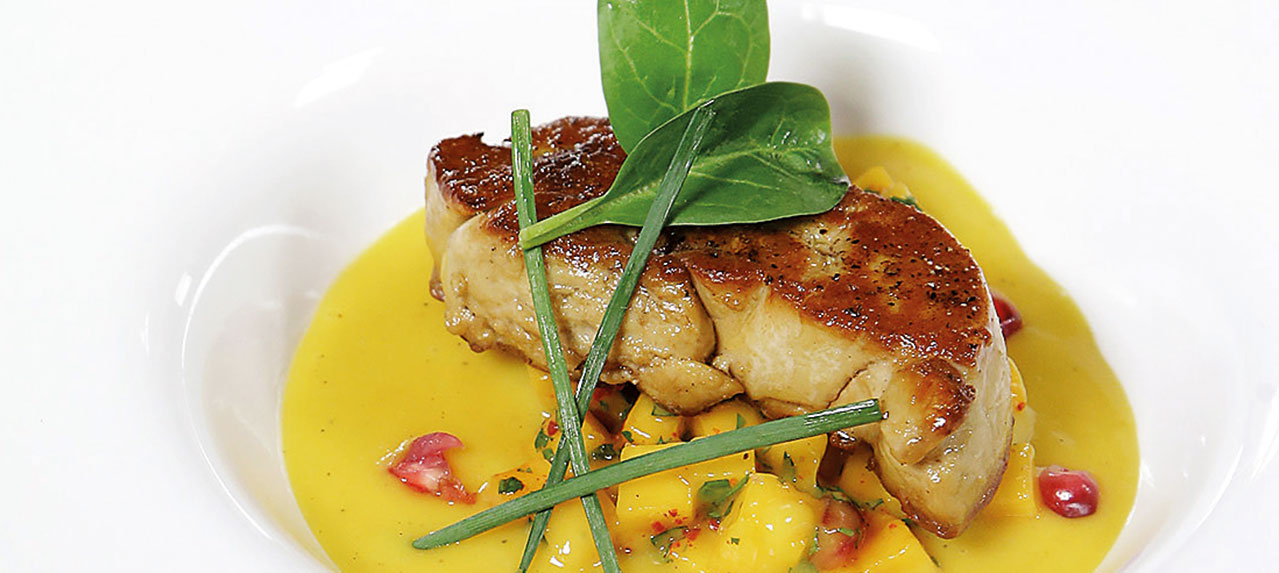 4 slices French foie-gras (60/80g by pc)
1 mango
½ a pomegranate
1 bundle chervil
1 bundle fresh coriander
Young beetroot leaves
Olive oil
Sea salt
Espelette chili pepper
White pepper
Sauce
300 ml passion fruit purée
50g butter
200 ml syrup at 30° beaumé (1000 ml water + 1350g sugar)
Passion fruit and cardamom sauce
1 pineapple
3 mangoes
2 star anise
2 cinnamon sticks
1 pinch freshly ground cardamom
2 tbsp honey from flowers
Passion fruit purée
1. For the passion fruit and cardamom sauce, peel the fruit and cut them in cubes of 1cm x 1cm.
2. Warm the honey until it becomes golden brown and add the spices. Add the fruit cubes. Cook slowly and strain it in a sieve.
3. For the sauce, boil the passion fruit purée.
4. Add 100g of the mango, pineapple and cardamom purée.
5. Adjust the seasoning, salt, pepper and syrup at 30 degrees if necessary.
6. Add butter for the creaminess of the sauce and reserve.
7. Peel and cut the mango in cubes of 8 x 8mm. Chop the fresh coriander with a sharp knife.
8. Put in a bowl. Season with Espelette chili pepper and sea salt. Store in a cold place.
9. Season the slices of foie gras. Sear the slices of foie gras in à hot pan without fat.
10. Put on a paper towel after cooking and season with sea salt.
11. Arrange on a warm plate the tartar of mango, the sauce and the foie gras. Decorate with pomegranate seeds and beetroot leaves.