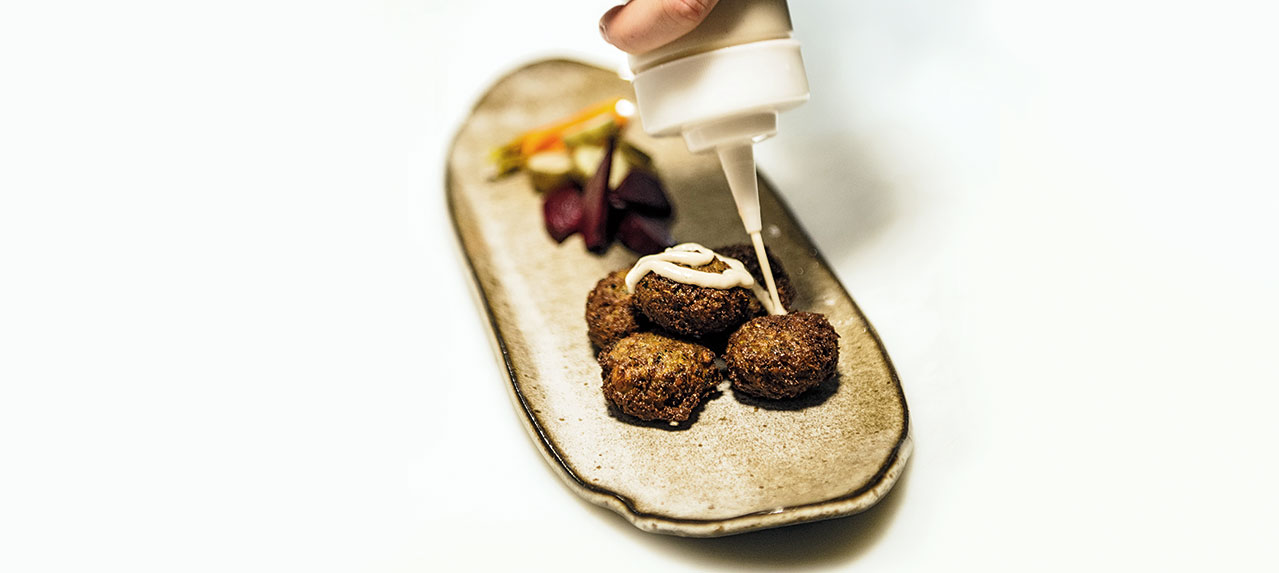 40g bread
25g chopped parsley
20g chopped cilantro
20g chopped green onions
25g diced white onions
10g minced garlic cloves
11g salt
12g falafel spice mix
2 beaten eggs
20g whole wheat pastry flour
1 tsp baking powder
Spice mix
23g ground cumin
17g ground coriander
27g ground black pepper
7g ground cinnamon
4g ground caraway
100g dried split favas
100g dried garbanzo beans
1. Soak beans overnight with enough water to cover 2.5cm and stir in ½ tsp baking powder
to each soaking bean.
2. Next day, drain beans and rinse well with cold water.
3. Tear bread in small pieces and add enough water to saturate and soften. Squeeze extra water
from bread if needed.
4. Combine bread, eggs, parsley, cilantro, green onion, white onion, garlic, salt and spice. Stir together.
5. Once mixed, puree in mixer until completely smooth. Once mixture is pureed, set aside in a large bowl.
6. Take drained beans and puree separately on low speed in mixer until broken down, stopping intermittently.
7. Combine beans with herb, bread and spice mixture and mix until uniform. Fold flour into mixture slowly and softly. Refrigerate for 1 hour.
8. When ready to fry, fold in baking powder until uniformly mixed.
9. Form falafel into desired shape.
10. Fry falafel at 325°F until dark brown and freely floating in fryer oil.
11. Falafel ball should be airy and light in middle, cooked all the way through.