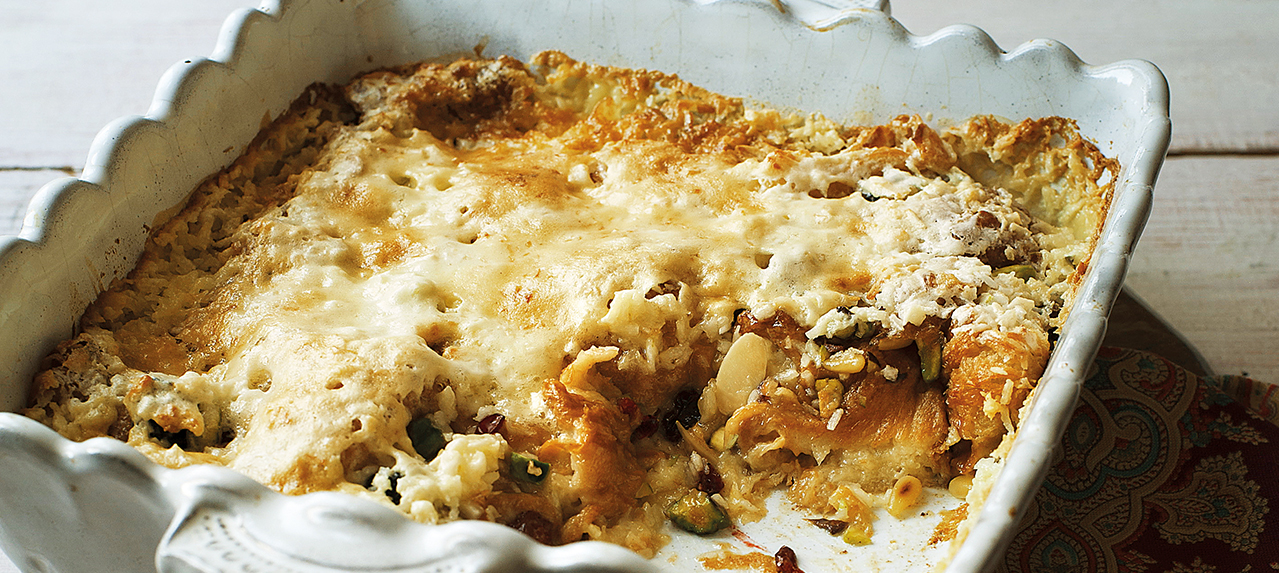 • 4 all-butter croissants
• 2 tbsp raisins or dried mixed berries
• 2 tbsp flaked almonds, plus extra to sprinkle
• 2 tbsp pine nuts, plus extra for sprinkling
• 2 tbsp roughly chopped shelled pistachios
• 250 ml milk
• 5 tbsp caster sugar
• ¼ tsp ground cinnamon
• 2 tsp orange blossom water
• 250 ml whipping cream
• 4 tbsp shredded coconut
• 1 small egg, beaten
1. Preheat the oven to 1800C and line a baking sheet with parchment paper. Tear up the croissants into bite-size pieces, place on the baking sheet and bake in the oven for 10 minutes until crisp and golden.
2. Spread the baked croissant pieces across the base of a baking dish, about 28cm square. Sprinkle over the raisins, almonds, pine nuts and pistachios.
3. Heat the milk in a heavy-based saucepan over a medium heat, add 3 tablespoons of the sugar and mix well to dissolve. Reduce the heat to low, add the cinnamon and orange blossom water and heat through at a gentle simmer for 3 – 4 minutes. Remove the pan from the heat and leave it to cool so that the egg will not scramble when it's added to it.
4. Meanwhile, put the cream and the remaining sugar in a mixing bowl and whisk until the mixture forms soft peaks. Sprinkle in the coconut and gently fold to incorporate.
5. Add the egg to the cool milk mixture and whisk to combine. Ladle the mixture into the baking dish and spread the whipped cream over the top.
6. Bake in the oven for 15 minutes until everything is bubbling and the top is golden; if necessary, place it under a hot grill for the last 1 – 2 minutes to brown the top. Remove from the oven and leave to stand for a couple of minutes. Serve warm.