DUCK BREAST STUFFED WITH FIE GRAS
Serves 4 | Prep/cooking 80 mins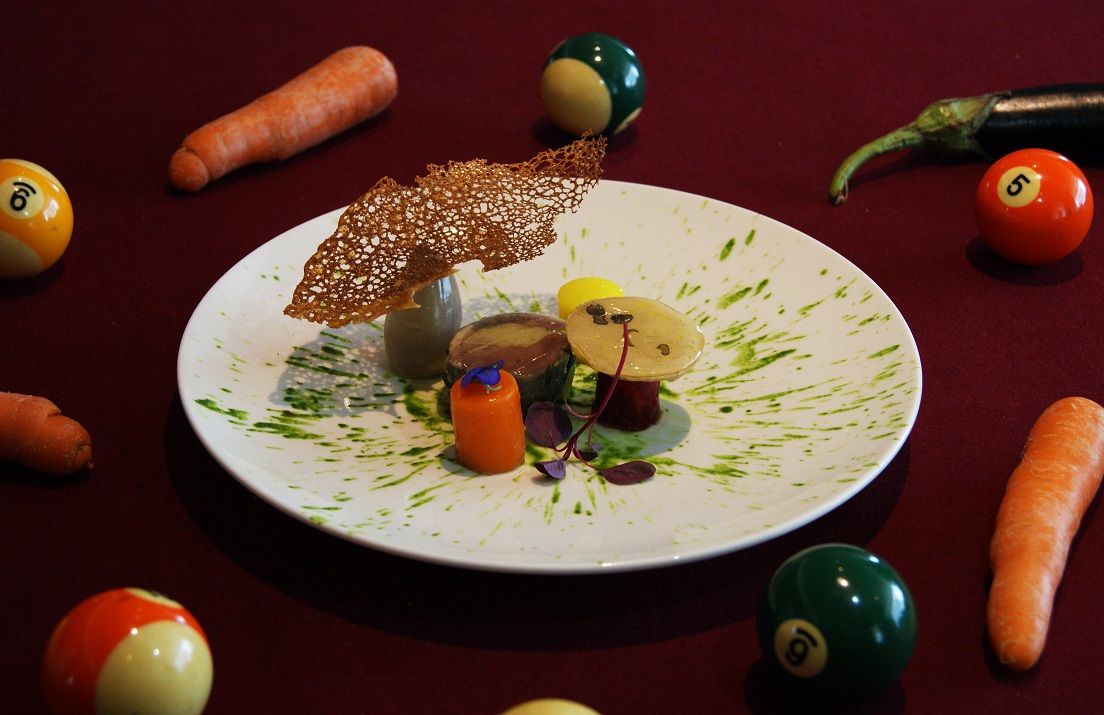 200 g duck breast
100 g foie gras (raw)
100 g truffle foie gras terrine
160 g baby potatoes, peeled and blanched
160 g baby beets, boiled and peeled
160 g carrots, peeled and blanched
40 ml raspberry vinegar
1 vanilla bean
160 ml chicken stock
20 g orange zest
200 ml herb oil
140 g water
60 g oil
20 g flour
Remove the duck breast from the refrigerator and dry it with paper towels.
Trim the duck of excess fat. Wipe the flesh dry and score the skin in a crosshatch pattern without piercing the flesh.
Make a hole with your knife in the center of the duck across all the meat, then cut the foie gras into baton shapes and stuff the duck.
Close, cover with plastic wrap and put in the fridge for 20 minutes.
Place a large nonstick skillet over a medium-high heat. Add the duck breast, flesh side down and sear well for about 2 minutes. Turn the duck over and season with salt and pepper. Reduce the heat to medium-low and slowly cook the duck breast, fat side down and without turning for 10 minutes. Set aside.
Using a roasting pan over a medium heat, put a few drops of olive oil and add the boiled vegetables. Roast well on both sides for a few minutes.
Degrease with raspberry vinegar, vanilla beans and chicken stock. Keep simmering for 10 minutes. Check the seasoning and finish with orange zest.
Spread the herb oil on the plate, cut the duck breast, truffle foie gras and place on a plate.
Garnish with vegetables and top with the crispy tuile.
CHEF'S TIP
To prepare the tuile, mix water, flour and oil together and add it to a pre-heated (170°c) pan without oil. Once set, remove and cool down.