CURED SALMON AND GRIBICHE SAUCE
Serves 6 persons | Prep/cooking time 40 mins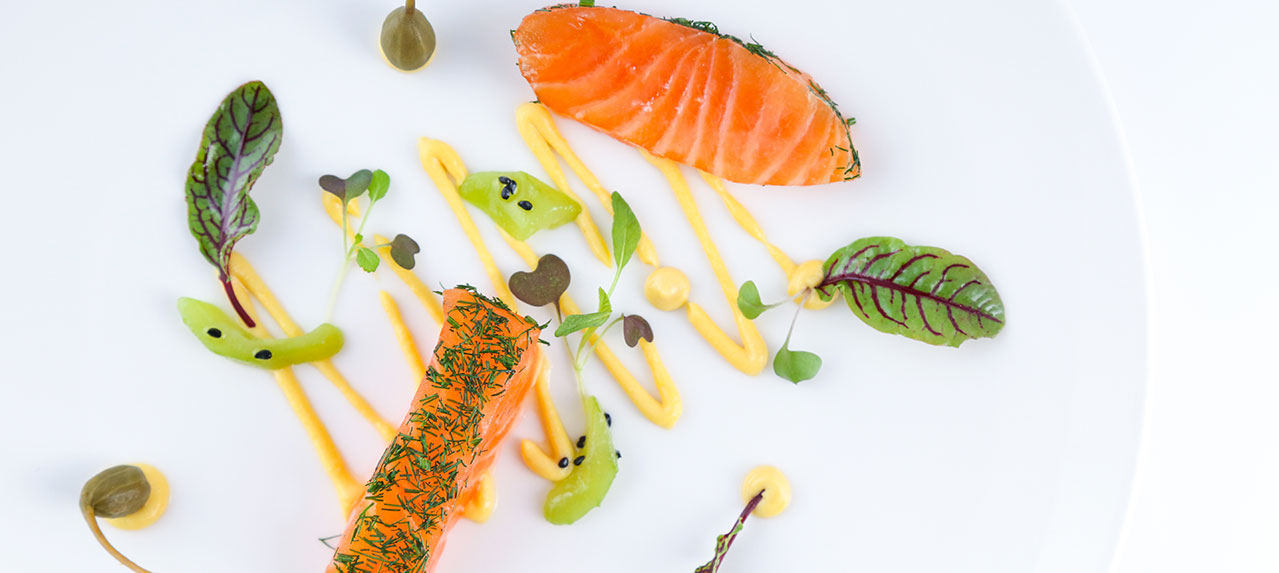 600 g fresh salmon
600g rough salt
20g sugar
1 vanilla sprout
4 pcs star Anise
2 tbsps. Pastis
20g black pepper corn
1 bundle fresh dill
100ml corn oil
100ml olive oil
4 cooked eggs
1 tbsp. Dijon mustard
2 tbsps. Xeres vinegar
100ml olive oil
1 tbsp. lemon jus
1/2 bundle fresh chives chopped
1/2 bundle fresh tarragon chopped
50g chopped cornichon
50g capers
1/2 bundle fresh chives chopped
150g honey
60g rice vinegar
35g Xeres vinegar
290g sunflower oil (harachide)
15g salt
3g black pepper corn
300g water
200g sugar
100g white wine vinegar
10g Pepper corn
2 bay leaves
50g carrot and onion chopped
40g Coriander stems
60g Mayo
30g Dijon mustard
1/2 bundle fresh dill chopped
½ teas Mustard seeds
1 tbsp. gin
500g blanched cucumber
1. For the Cured salmon, the process starts by mixing the rough salt, pepper and sugar, vanilla and star Anise with a food processor and keep the mixture in a small bowl.
2. Combine thoroughly and make sure that the sugar is evenly distributed amongst the salt granules.
3. You should have de-scaled and removed all the pin bones from your fish before receiving it,
Cover the fish (don't forget the sides) with pastis completely with the salt and sugar mixture.Put in the fridge.
4. Once your 6 hours come to a close, it's time to rinse your fish. Then drain it, put the chopped dill on it and marinated in the oil for 1 day.
5. For the Gribiche sauce, Put the cooked egg yolks, mustard, and some salt and pepper in a large bowl and mash them well together.
6. To this paste add the vinegar and then the olive oil, drop by drop as if making mayonnaise.
7. Keep the sauce creamy by adding small amounts of lemon juice, capers, cornichon, dill and tarragon.
8. Dice the cooked egg white and add it to the sauce.
9. Finish the sauce by adding the chopped herbs, capers, and cornichons. Taste and correct the seasoning.
10. For the Aigre-douce, combine all ingredients in a bowl. Season with salt and pepper.Cover. Place in the fridge for 1 hour to develop the flavors.
11. As for the pickled cucumber, combine all the ingredients in a saucepan and bring to boil over medium heat.
12. Stir until all the sugar is completely dissolved.
13. Remove from heat and let cool.
14. Pass the cooled vinegar into the cucumber jar and refrigerate.
15. Marinate 4 hours. After 4 hours drain the pickled cucumber, put in a large bowl, add mustard and mayo, mustard seeds and chopped dill.
16. Finish with few drops of gin, salt and pepper.