CAULIFLOWER, CHICKPEA & POMEGRANATE SOUP
Serves 6-8 | Prep/cooking 70 mins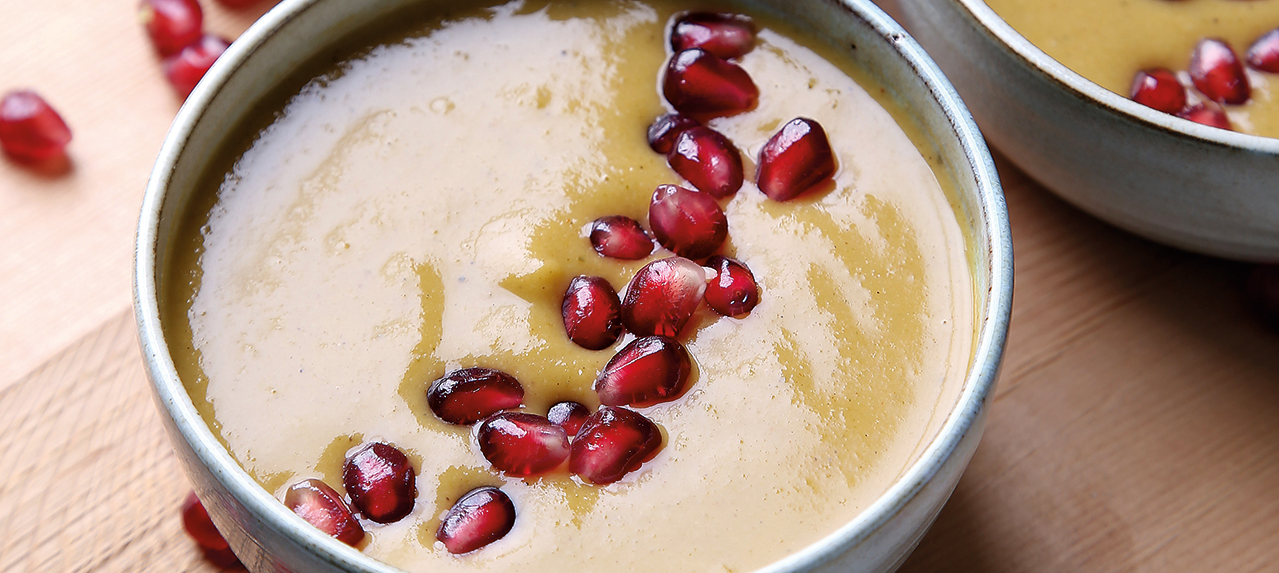 3 red bell peppers
4 Medjool dates, pitted
60 ml pomegranate molasses
120g toasted walnuts
1 tsp Aleppo pepper or all spice
1 tsp ground chili (or more to taste)
1 garlic clove, crushed (optional)
To serve
Toasted Arabic bread
2 tbsp olive oil
1. Over a medium flame, chargrill the red peppers turning them from time to time to ensure all sides are turn black, for about 45 minutes. Remove the red bell peppers from the flame and place them in sandwich bags (zip-lock bags) and leave them aside for about 15 minutes.
2. Using the bag, pinch a bit off the butt of the pepper and then begin peeling the skin, remove the peppers from the bags and continue peeling off the burnt parts (it is okay if some parts remain burnt); don't rinse under water because you will be compromising on flavor.
3. Roughly chop the peppers after removing the seeds and stems.
4. In a food processor, place the peppers, walnuts, dates, pomegranate molasses, spices and season with salt to taste, and process until smooth for about 1 minute.
5. Transfer the dip to a serving bowl, drizzle with olive oil, and serve with toasted Arabic bread.