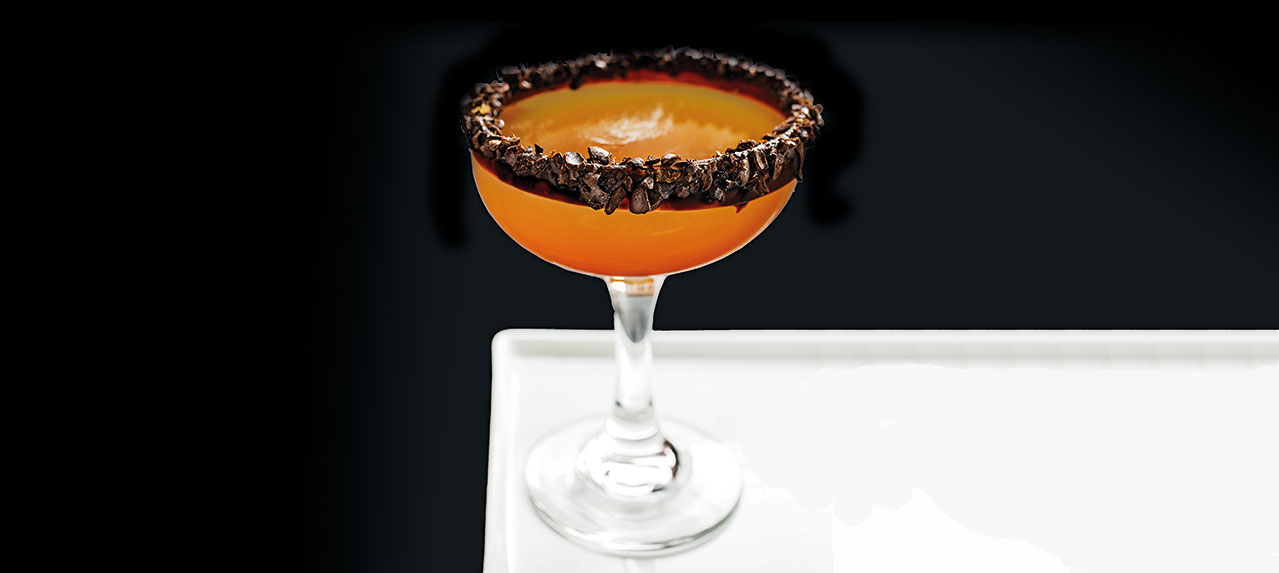 1 ½ oz Amaretto liqueur
1 oz coffee simple syrup
1 oz lemon juice
Dark Chocolate Espresso Rim
5.3 oz 70% dark chocolate
3 oz espresso beans, ground coarsely
Coffee Simple Syrup
4 oz coarsely ground coffee beans
8 oz hot water
8 oz sugar
1. Combine ingredients in a mixing glass.
2. Add ice and shake until well chilled.
3. Strain and serve in a chilled glass with a dark chocolate espresso rim.
4. For the coffee simple syrup, cover coffee with hot water, let steep for 20 minutes.
Strain though a fine strainer or coffee filter to remove grounds. Add sugar to coffee mixture and stir until dissolved. Cool to room temperature.
5. For the dark chocolate espresso rim, Process espresso beans in a spice grinder.
Transfer into a plate or shallow bowl.
Temper chocolate in a double boiler.
Transfer into a shallow, flat bottomed bowl. Invert your glass rim down into the chocolate so it is evenly coated. Remove gently and allow to drip any excess back into the bowl.
Roll the rim gently in the espresso until partially or wholly covered. Transfer in the inverted position
to a plate to set.
Chill before using.