BLACK BEAN & PAK-CHOI SCALLOPS
WITH SESAME OIL SALAD
Serves 6 | Prep/cooking 35 mins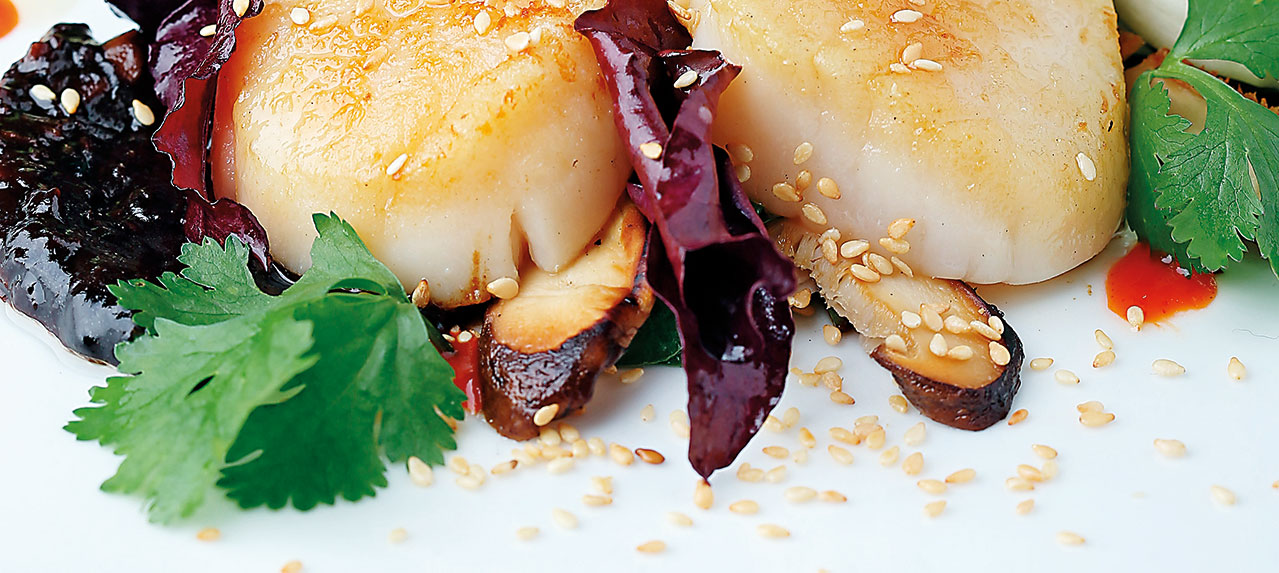 18 large scallops
Knob of butter
1 tsp vegetable oil
3 large pak-choi (Chinese cabbage)
1 cup black bean sauce
6 fresh shiitake mushrooms
1 cup salad leaves
½ cup coriander leaves
Roasted sesame seeds
50 ml sesame oil
50 ml lime juice
1 tsp chilli purée
1. Split the pak-choi lengthwise and wash thoroughly.
2. Oil, salt and pepper the pan and grill on a very high heat for about 1 minute. Set aside.
3. Place a knob of butter and a little vegetable oil in a large pan. Heat well and add the scallops and sliced shiitakes. Grill till brown on both sides.
4. Gently simmer the black bean sauce with some water till warm.
5. Mix the salad leaves and the coriander with the sesame oil, the lime juice and the chili puree.
6. Serve the scallops warm on the salad with the mushrooms and the shiitake. Drizzle with the black bean sauce and sprinkle with sesame seeds before serving.