AUSTRALIAN RUMP MEDALLION WITH GOAT CHEESE
Serves 4 | Preparation 3 hrs 30 mins Cooking 3 hrs 30 mins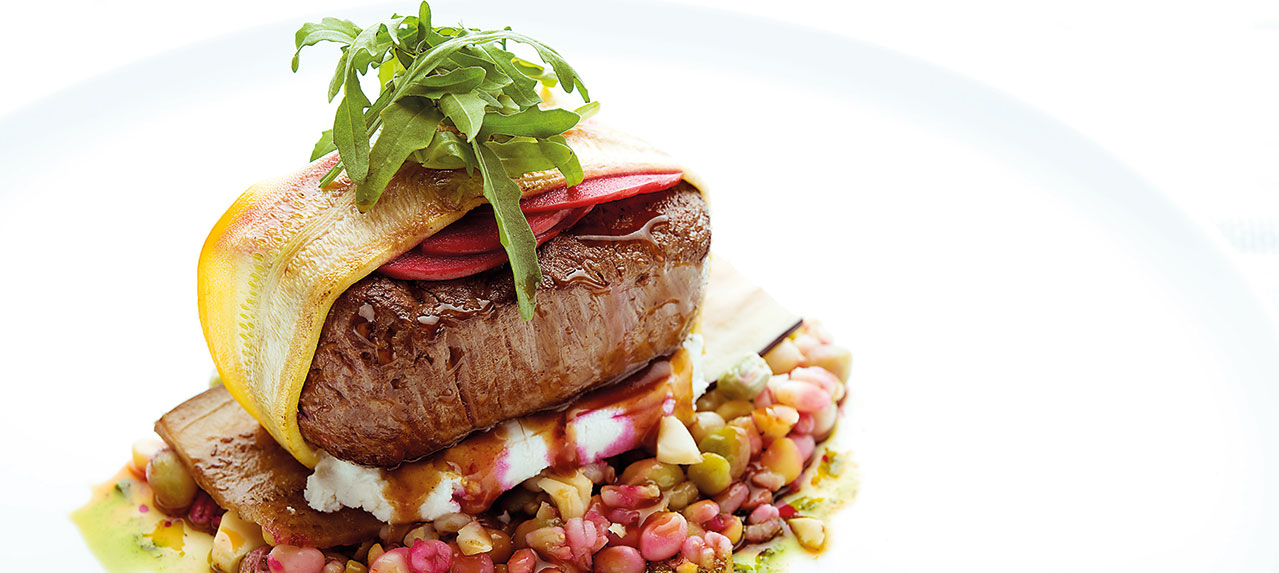 4 x 150g Australian rump centre medallions rubbed with oil
¼ cup chopped carrots
½ cup chopped Spanish onions
¼ cup chopped celery
1 tbsp grape seed oil
1 eggplant (about 3 inches wide)
2 shallots, peeled and thinly sliced
½ cup non-alcoholic Burgundy white wine
Salt and pepper
16 slices of pickled apples (see recipe)
½ cup yellow, lentils, barely and peas
1 ¾ cups water
12 thin slices zucchini
1/3 cup of olive oil
½ cup hazelnuts, toasted, peeled and chopped
6 oz goat cheese cut in 1 ½ oz rounds
1 diced shallot
1 tbsp sherry vinegar
1 tbsp water
1 cup arugula
1 cup spinach leaves
3 tbsp diced carrots
3 tbsp diced celery
3 tbsp diced shiitake mushrooms
1. Caramelize the carrots, onions and celery in a small saucepan with 2 teaspoons of the grape seed oil.
2. In a hot sauté pan, place the eggplant slice and pan grill until tender.
3. Place the sliced shallots in a small saucepan with the Burgundy and simmer over a medium heat for 12 to 15 minutes, allowing the Burgundy to be absorbed by the shallots. Season to taste with salt and pepper.
4. Place the yellow lentils mixture in a small saucepan and cover with 1 ¾ cups of water. Bring to a simmer and cook very slowly for about 20 minutes, or until done. (If you boil the lentils they will break apart).
5. To make pickled apples, mix all ingredients together in a small jar and leave for 3 hours.
6. Blanch the zucchini in boiling salted water, shock in ice water, and blot with paper towels.
7. Lay the zucchini slices on a non-stick sheet pan, coat lightly with olive oil and place under the broiler for 4 minutes, or until the slices are slightly browned.
8. Lay three slices of zucchini, browned side down, overlapping, on a backing pan. Place a small mound of the hazelnuts in the center of the zucchini and place a round of the goat cheese on the hazelnuts.
9. Place the diced shallots and sherry vinegar in a bowl, slowly drizzle in the remaining olive oil, and whisk until it is incorporated. Season to taste with salt and pepper.
10. On the top of the goat cheese place five slices of pickled apples and the shallot mixture. Fold the two ends of the zucchini together to wrap the goat cheese.
11. Place the sheet pan in the oven at 350ºF for 3 to 5 minutes, or until the cheese is soft and begins to sweat.
12. In a hot sauté pan add the rump center medallion and pan grill until done to your liking. Cover the meat and let it rest for 5 minutes.
13. In a sauté pan, place the water and 2 tablespoons of the sherry mixture, add the arugula greens and 2 cups of the spinach, and gently wilt over medium heat.
14. In a sauté pan with the remaining 1 teaspoon of grape seed oil, sauté the carrots, celery and shiitake mushrooms. Toss half of the carrot mixture with the wilted greens. Season to taste with salt and pepper; Drain any excess liquid for the lentils.
15. In a small saucepan, toss the lentils with the remaining diced vegetables and sherry mixture.
16. Cook over low heat until warm, season and serve.