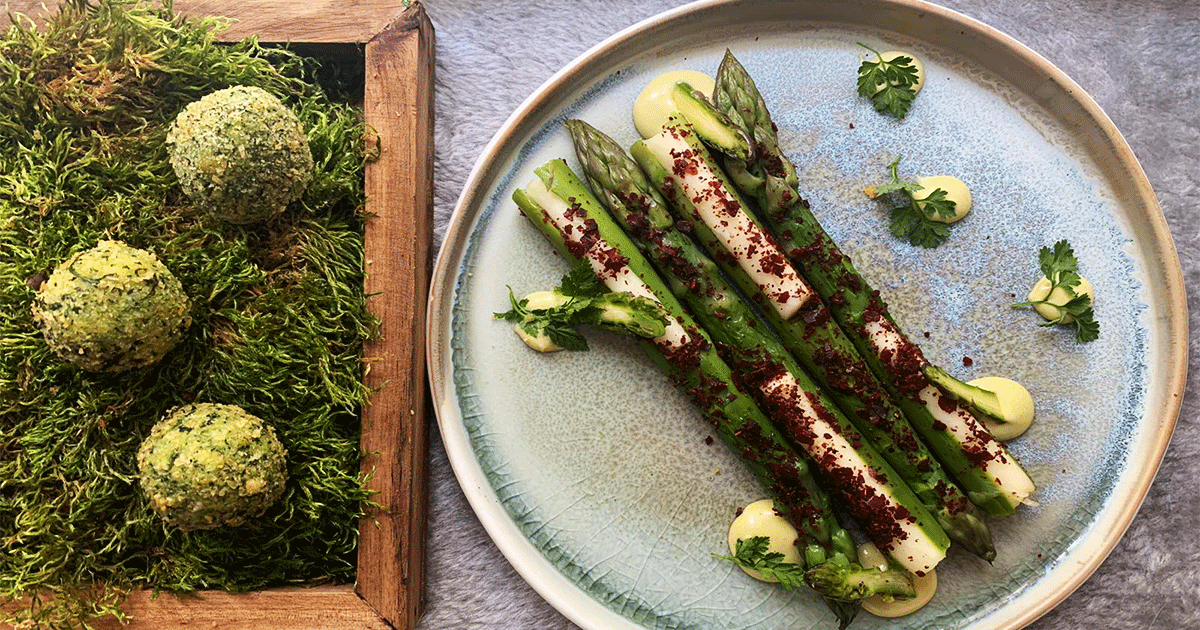 1 bunch of coriander
1 bunch of chervil
250g halloum cheese
100g basterma slices
100g breadcrumbs
50g flour
2 eggs
50g sumac
500ml frying oil
Put the basterma chips in the oven: place the slices on a plate and bake them for 10 minutes at 180 degrees.
Prepare the asparagus and cook them for about 4 minutes in boiling water (they must remain firm).
Using a metal straw, make halloum cylinder (one per asparagus) then cut the same cylinder in the surface of the asparagus, to insert the halloum cylinder.
Add the
Sprinkle crushed pastrami chips over the asparagus.
Prepare 3 bowls: one with a little flour, the second with 2 beaten eggs and the third with a micture of breadcrumbs, coriander and chervil.
Mix coriander with chervil and halloum cheese. Make dumplings from this preparation, dip them in the 3 bowls prepared of flour, egg and breadcrumbs (in this order) then fry them with frying oil at 160 degrees.
For the dressing, you can add to the asparagus a small amount of mayonnaise, here prepared with wild garlic.
Tip
If you want a less technical recipe, you can simply place a thin halloum bar on the asparagus without cutting.