GREEN ASPARAGUS AND SAUTÉED MUSHROOM CASSEROLE WITH POACHED EGGS
Serves 4 | Prep/cooking 60 mins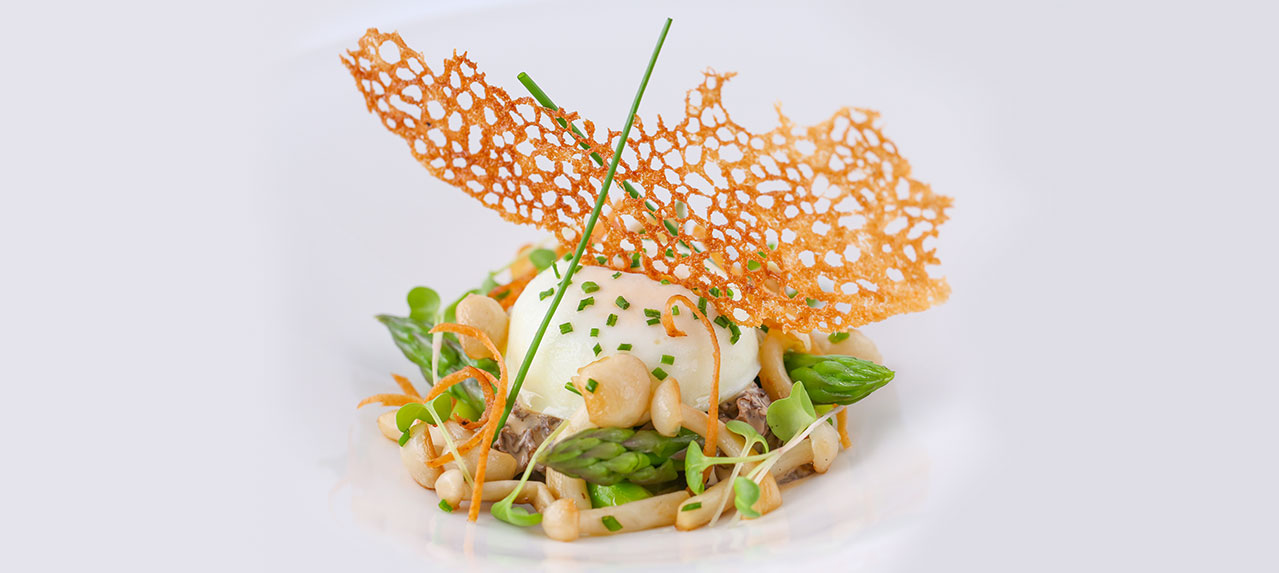 20 pc Green Asparagus
4 pc Farm Bio Egg
200 g Paris mushroom
100g Crabs mushroom
60g Shallots diced
10g Garlic cloves
2 bundle Chives chopped
1 bundle Chervil
30g Mix Young Sprout
20g Baby spinach leaf
20g Baby beetroot leaf
Salt
Salt Flower (flakes)
Crushed Pepper mil
White pepper powder
10cl Olive oil
140g Water
60g Oil
20g Flour
40g Dry morel
100g Peeled shallot
15cl White sweet wine lacrima d'Oro (Château Kefraya)
½ bundle French thyme
10cl Virgin olive oil
30g Butter
15cl Morel juice
10cl Reduced veal stock
10cl Cream
30g Butter (French Echiré)
1. Boiled the green asparagus in a salted water then put them in ice water.
2. Cut the shallots in half and pan fried them with garlic cloves in butter with a strand of thyme.
3. Add the mushrooms and cooked them until them become golden brown.
4. Season with salt and crushed pepper and reserve aside.
5. Poached the eggs in a special pan for 4 mn.
6. Pan fried without coloring the green asparagus with butter, season with salt & pepper.
7. Set up the different preparations in a plate.
8. Add the bread tuille.
9. Decoration and presentation like on the picture.
10. Proceed to cook the diced shallot in a butter and olive oil.
11. Add a strand of thyme in a pan.
12. Cook without coloring.
13. Add the morels who have been soaked, cutted and washed properly.
14. Add the morel juice.
15. Add the veal juice.
16. Reduced to 1/3.
17. Add the cream.
18. Removed the morel cooked.
19. Pass the sauce in the strainer.
20. Season with salt and pepper.
21. Add butter and reserved aside.