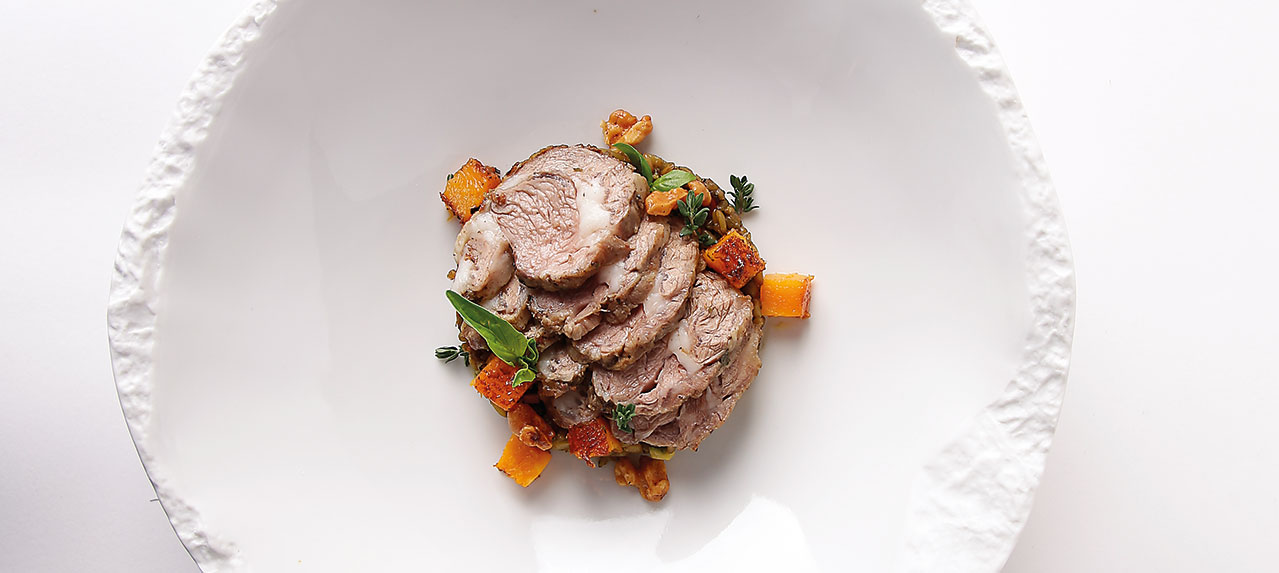 860g lamb saddle, cut into 2 pieces
Salt to taste
Black pepper to taste
20ml olive oil
10g cracked garlic
2g rosemary
2 French thyme sprigs
55g lamb saddle marinade
1.5 kilo salt crust
Truffle sauce
Lamb saddle marinade
15g garlic
1g cardamom
50g mastic
0.50g black pepper
0.50g French thyme
1g rosemary
1pc carob pod
35 ml olive oil
Salt crust
1500g ground coarse salt
40g (2 pcs) egg whites
Truffle sauce
400g liquid strained from green wheat pilaf
200g roasted lamb saddle dripping
20g truffle paste
10ml truffle oil
Green wheat pilaf
75ml olive oil
85g minced leeks
75g minced onions
2pcs bay leaves
155g fresh mushroom quarters
350g roasted green wheat, washed and soaked
65g diced dry figs
1 pc carob, cut into 4 pcs
2 pcs star anise
2 pcs cardamom
1 pc loumi
3 pcs cloves
1000g vegetable stock
0.50g sweet pepper
0.50g caraway
Pinch of white pepper
Pinch of mastic
20g truffle paste
30g sautéed vegetables, small diced carrot, baby marrow, red and yellow pepper, sautéed with olive oil
20ml white truffle oil
Garnish
Roasted pumpkin cubes
Roasted walnuts
Green leaves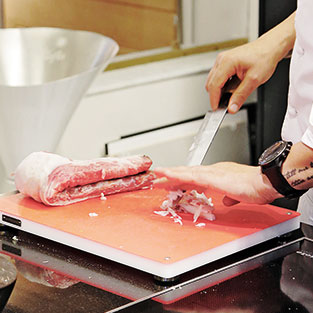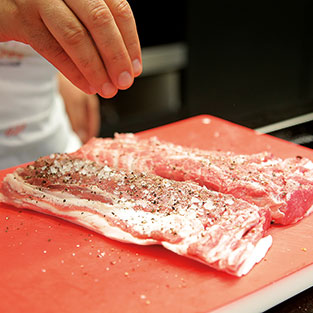 2. Season with salt and black pepper.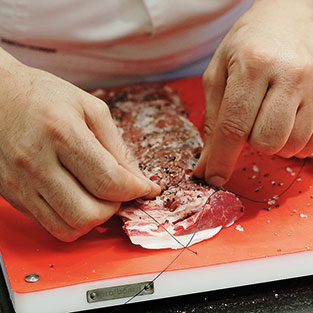 3. Wrap with butcher's twine to hold its shape.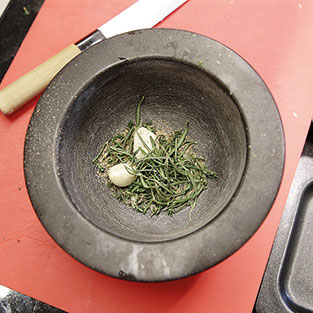 4. Combine garlic, cardamom, mastic, black pepper, French thyme and rosemary in a mortar. Grind with a pestle till fine consistency. Grate over carob and mix it all together. Add olive oil and mix till creamy in texture. Heat olive oil; add cracked garlic, rosemary and thyme.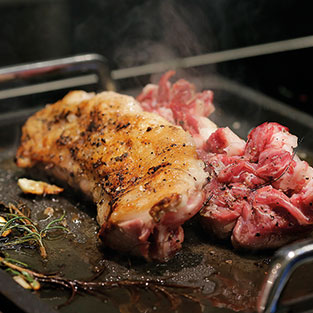 5. Pan-fry the saddle on both sides till brown.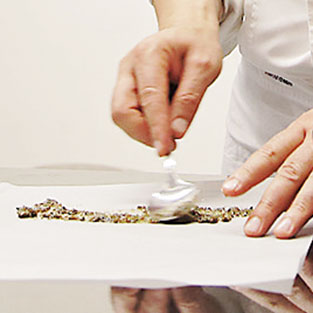 6. Spread the lamb marinade on two parchment papers. Place each piece of lamb saddle on a parchment paper then roll.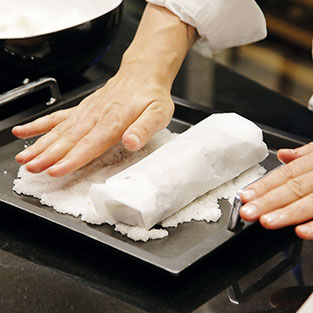 7. Mix salt and egg whites together. Spread salt crust in a baking tray, place two rolls of lamb then cover with salt crust.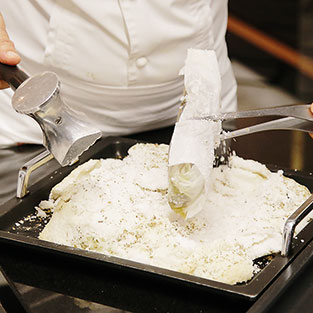 8. Bake in a 180˚C oven for 20 minutes and then crack open the crust.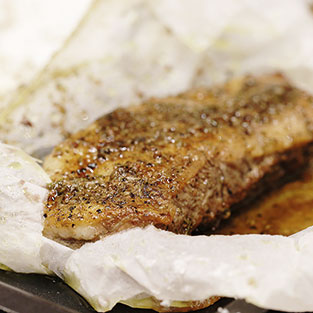 9. Remove from the salt crust, unwrap and set aside in closed container.
For the green wheat pilaf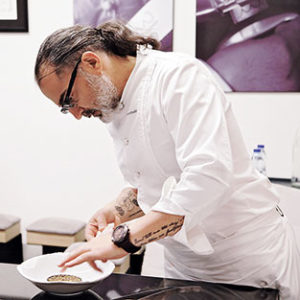 10. Heat olive oil in a sauce pot. Add minced leek and minced onion; cook for 20 minutes on low heat till translucent. Add bay leaves and mushroom quarters. Add roasted green wheat and roast for 15 minutes. Add diced dry fig and carob. Combine star anise, cardamom, loumi and cloves in a cheesecloth; add to the pot. Add vegetable stock. Add sweet pepper, caraway, white pepper and mastic. Cover with parchment paper and cook for 1 hour or till cooked through. Strain, then add truffle paste, sautéed vegetables and white truffle oil. Reserve the liquid strained from the green wheat pilaf. Simmer all the ingredients together for the truffle sauce till homogeneous.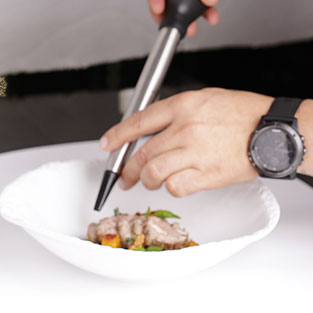 11. Dress green wheat pilaf in a plate. Top with braised lamb saddle pieces and the truffle sauce.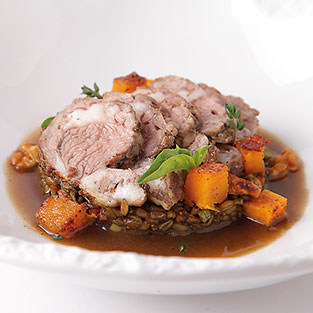 12. Garnish with diced roasted pumpkin, roasted walnuts and green leaves.