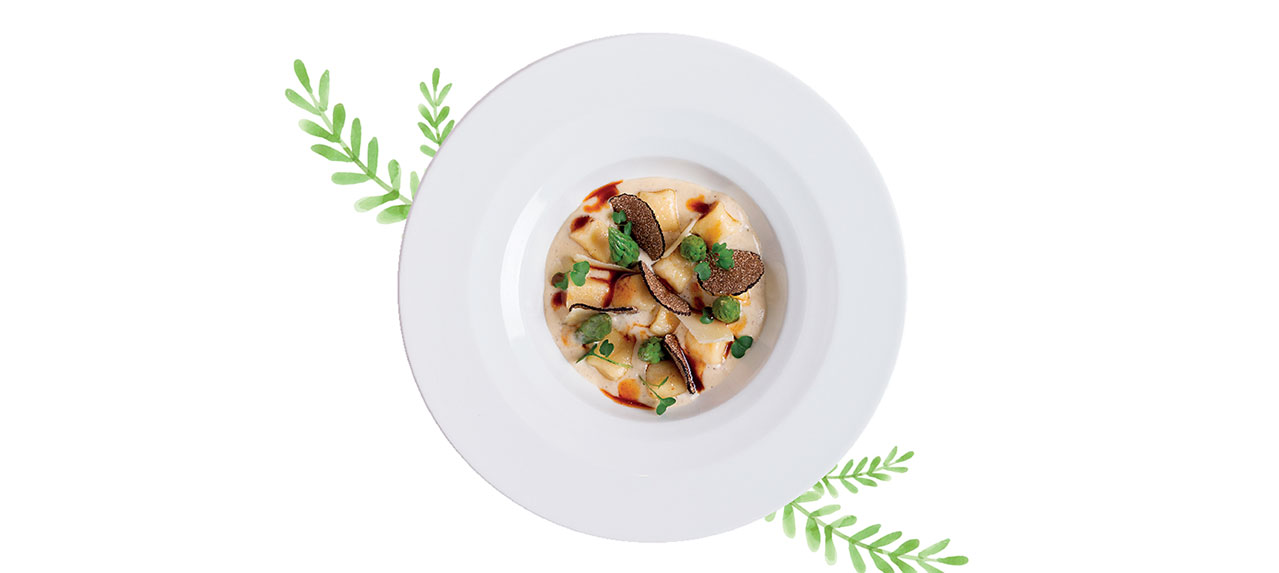 1.4kg baking potatoes
200g mascarpone
4 eggs yolk
Salt
White pepper
Flour
Grana padano cream
100g Grana Padano cheese
½ onion finely chopped
25ml white wine like Chardonnay
150ml chicken stock
1 large garlic clove, finely chopped
300ml cream
30g black truffle (½ grated – ½ sliced)
Salt
White pepper
Chicken jus
2  chicken carcasses or
500g of trimmings
1 carrot
1 onion
Bunch of thyme
3 tomatoes
50ml red wine
Black truffles
1. For the gnocchi potato, wrap the potatoes with aluminum foil and add some coarse salt to a tray.
2. Bake at 180°C for about 45 minutes to 1 hour. To test if ready, try one potato with a knife – it should go in easily.
3. Peel the potatoes when they are still warm and pass through a sieve.
4. Stir in egg yolks and mascarpone.
5. Finally, add the flour and seasoning.
6. Put the mixture into a piping bag. Make long potato strips and divide them into balls.
7. Chill them in the fridge.
8. Cook the gnocchi in boiling water with salt and olive oil.
9. When the gnocchi come back to the top, take out and let them cool down for a bit.
10. For the Grana Padano cream, sauté onion in olive oil then lightly toast the garlic.
11. Add white wine and reduce by half.
12. Pour the chicken stock and reduce by half again.
13. Add the cream, the trimmings of truffles and grated Grana Padano cheese.
14. Season with salt and pepper.
15. For the chicken jus, roast the chicken carcass or trimmings for 25 to 45 minutes or until browned.
16. Cook the onion, carrot, and tomatoes for 5 minutes.
17. Increase heat and add red wine.
18. Boil, stirring occasionally until wine is reduced.
19. Add carcass pieces and water to cover.
20. Return to the boil over high heat; reduce heat to simmer, stirring occasionally for 1 hour.
21. Pour the jus through a fine strainer, add salt and pepper to taste.
22. For the black truffles, slice the truffles with a fine slicer and keep the trimmings for the sauce.
23. For the assembly, reheat the gnocchi with some butter and check the seasoning.
24. Pour some Grana Padano cream in the plate.
25. Add the remaining ingredients and garnish with Parmesan shavings, chicken jus and slices of fresh truffle.