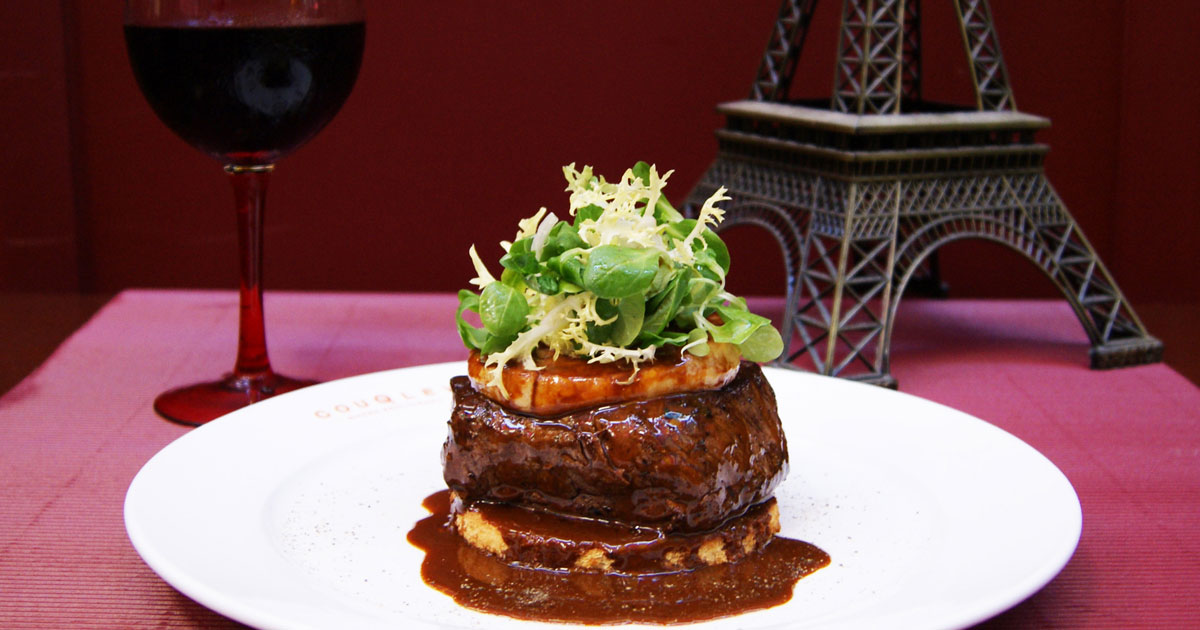 50 g Perigueux sauce
200 g beef filet
50 g foie gras
20 g flour
20 g sunflower oil
Black pepper to taste
Salt to taste
2 g fleur de sel
50 beetroot sprouts
80 g brioche bread
5 g olive oil
5 g rocket sprouts
Drizzle oil on the filet and season with salt and pepper.
Cook the filet to desired temperature.
Slice the foie gras approximately 1.5 cm thick. Lightly dust the foie gras with flour. Using a clean Tefal skillet, place the skillet on high heat and lay the foie gras delicately in the middle. Sear both sides until golden brown.
With a cookie cutter. Cut a circle shape out of the brioche bread. Lightly toast both sides.
On the plate, place a dot of sauce in the middle and lay your toast on it. (Chefs Tip) This is done to prevent from sliding around).
Place the filet on the toasted brioche bread. Add a little fleur de sel on top of the filet.
Place the golden and warm foie gras on the filet. Add a little fleur de sel on top of the foie gras.
In a small bowl, place the sprouts. Drizzle some olive oil and season with salt and pepper. Place the mixture on the foie gras.
Finish by pouring your hot Perigueux sauce on and around the filet. (Chefs Tip) If you cannot find sauce Perigueux, a tasty Bordelaise sauce can do the trick.
Chef's Tip
LET THE FILET REST FOR THE SAME AMOUNT OF TIME AS THE COOKING TIME.