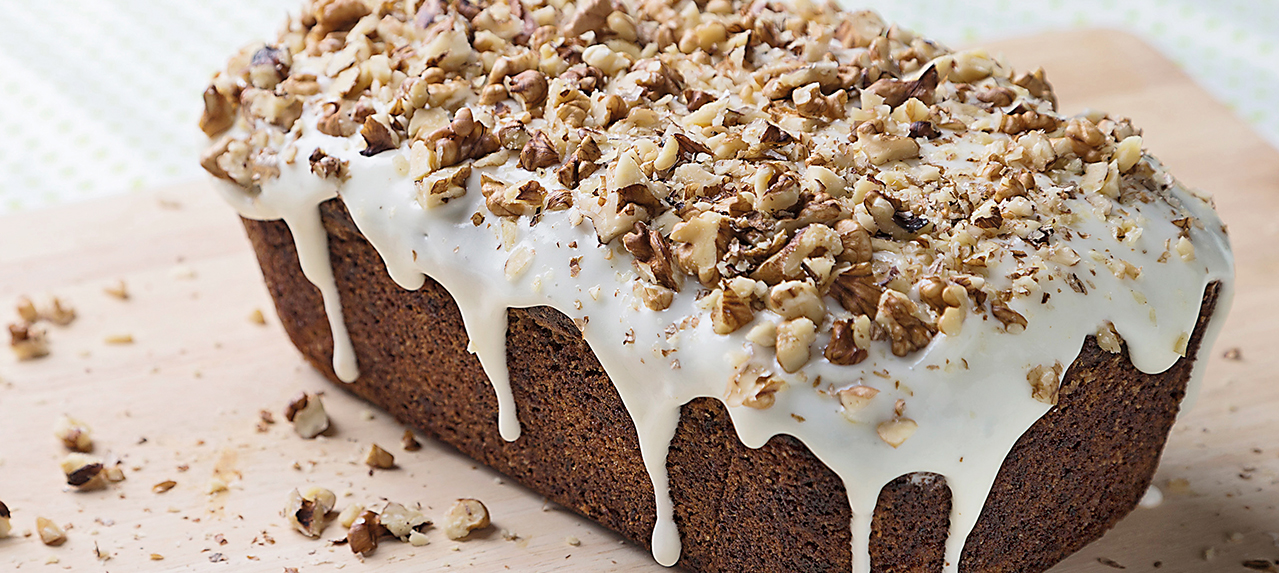 For the zucchini cake
• 280g plain flour
• 1 tsp baking soda
• 1 tsp sea salt
• 2 tsp ground cinnamon
• 1 tsp ground ginger
• ½ tsp ground nutmeg
• 3 eggs
• 350g caster sugar
• 250ml olive oil
• 2 tsp rosewater
• 135g walnuts, toasted and coarsely chopped
• 300g grated zucchini
For the lemon glaze
• 100g cream cheese, at room temperature
• 90g icing sugar
• Zest of ½ a lemon
• 1 tbsp lemon juice
• 50g walnuts, coarsely chopped
1. Preheat the oven to 180ºC. Grease and line a 30 x 9 cm loaf tin with parchment paper. Sift together the flour, baking soda, salt, cinnamon, ginger, and nutmeg in a medium bowl. Set aside.
2. Beat the eggs, sugar and olive oil in a medium bowl with a paddle attachment on medium speed for 2 to 3 minutes. Stop and scrape down the sides of the mixer, then add the rosewater.
3. Mix in the dry ingredients, scraping down the sides of the mixer bowl to make sure everything is mixed in well, beat on medium speed for 1 to 2 minutes. Stir in the chopped nuts and zucchini.
4. Pour the batter into the prepared cake pan. Smooth the top with a spatula or the back of a spoon. Bake for 45 to 50 minutes, until the toothpick inserted into the center comes out clean.
5. For the icing: In an electric mixer on medium, beat the cream cheese until softened. Slowly add the zest, juice and sugar and beat until well incorporated, about 3 minutes.
6. Spread a thick layer of frosting on the cooled cake, and sprinkle with the walnuts.